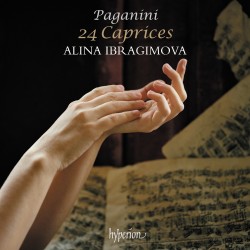 When the COVID lockdown started in March 2020 the London-based Russian violinist Alina Ibragimova decided to use the forced seclusion to do "some serious work" on the notoriously difficult Paganini 24 Caprices. The result, recorded in an empty Henry Wood Hall, is her new 2-CD set on the Hyperion label (CDA68366 alinaibragimova.com/recordings).
In his excellent booklet essay, which outlines the individual technical issues and challenges in each caprice, Jeremy Nicholas refers to Paganini as a shockingly underrated and "inspired and well-schooled composer whose innovative advances in violin technique couched in music of great drama and poetry remain his most significant contributions to the history of music."
Well, technique, drama and poetry is just some of what you get from the brilliant soloist here. It's a quite stunning performance, with never a hint of any technical problems but also never a hint of mere virtuosity – there's an astonishing palette of colours and moods that holds your interest from beginning to end. If you've ever viewed these pieces as mere technical studies then this set – an absolute must-buy at two CDs for the price of one – will certainly change your mind.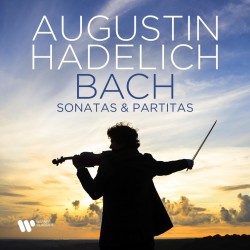 Another product of the lockdown is the Bach Sonatas & Partitas set from violinist Augustin Hadelich, who took the opportunity to complete a recording project that had long been a dream of his (Warner Classics 190295047955 warnerclassics.com/release/augustin-hadelich-bach).
His perceptive booklet notes examine the changing approach to Bach's music through the historically informed revolution to the current variety of styles. He uses a Baroque bow with his 1744 "Leduc, ex-Szeryng" Giuseppe Guarneri del Gesù violin, which he found to be liberating and a revelation, allowing for more fluid multiple stops and more buoyant, light articulation.
Hadelich uses vibrato when he feels it appropriate for expression, and adds occasional ornamentation. Tempi are dazzlingly fast at times, but bowing and intonation are always flawless.
These are brilliant performances; strong, bright and assertive but never lacking introspection.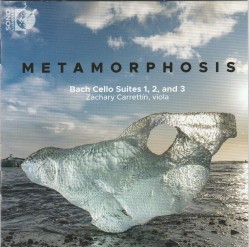 When the pandemic forced the suspension of Colorado's Boulder Bach Festival, its music director also took the opportunity to begin the Bach recording project he'd been planning for years. The result is Metamorphosis: Bach Cello Suites 1, 2 and 3 played on viola by Zachary Carrettín (Sono Luminus DSL-92247 sonoluminus.com).
Carrettín has extensive experience as guest concertmaster with numerous Baroque orchestras, and has lived with these works for over 25 years. The result, not surprisingly, is a superb set of beautifully judged performances. Any loss of low cello resonance is more than compensated for by the lighter warmth of the viola, its octave-higher tuning making these seem a perfectly natural performance choice, and not transcriptions.
The viola is an 18th-century model by an unknown maker, set up with internal and external historical fittings – bridge, tailpiece and bass bar – and wound gut strings, with Carrettín using an ironwood tenor viola da gamba Baroque bow.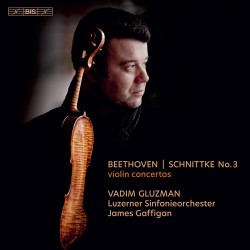 Vadim Gluzman is in tremendous form on Beethoven/Schnittke No.3 violin concertos, with the Luzerner Sinfonieorchester under James Gaffigan (BIS-2392 naxosdirect.com/search/+bis-2392+).
Strong opening timpani strokes in the Beethoven announce a performance of real character, but what really sets it apart is the use of the cadenzas written by Alfred Schnittke in the mid-1970s. With their snatches of Bach, Brahms, Bartók, Berg and Shostakovich, they strike Gluzman as "an incredible time bridge, uniting all into one and pointing to the Beethoven concerto as being the root, the source of inspiration and in a way a model for generations to come." They're remarkably effective, never deserting Beethoven's material but viewing it through different eyes, never simply virtuosic and never disrespectful – better, in this respect, than some of the standard cadenzas.
A cadenza starts Schnittke's own three-movement Violin Concerto No.3, written in 1978 for Oleg Kagan and scored for 13 wind instruments and string quartet, the latter not heard until the transition to the third movement.
Gluzman, playing the 1690 ex-Leopold Auer Strad, is superb throughout, with outstanding support from the Lucerne ensemble on a terrific disc.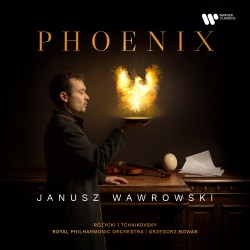 Phoenix, the latest CD from violinist Janusz Wawrowski with the Royal Philharmonic Orchestra under Grzegorz Nowak, features two concertos written in times of personal stress for their composers: the "Phoenix Concerto" for Violin Op.70 by the Polish composer Ludomir Różycki (1883-1953) and the Tchaikovsky Violin Concerto Op.35 (Warner Classics 0190295191702 wawrowski.com/albums-shop).
The two-movement Różycki concerto was written in 1944 during the Warsaw Uprising but never performed. When he encountered manuscript fragments of the work several years ago (no complete fully orchestrated version survives), Wawrowski was determined to see the concerto reborn; he located the manuscript piano reduction, discovered further fragments, including some of the original orchestration, rewrote sections of the violin part that were unplayable, and had a full orchestration prepared. The result is an extremely attractive work, premiered in 2018, with a first-movement theme that will melt your heart, especially given Wawrowski's sweet-toned, strong, rhapsodic playing. His remark that the concerto reminds him of Gershwin or – in particular – Korngold, with a slight glance towards Hollywood, is spot on.
The Tchaikovsky concerto was written following the breakup of the composer's disastrous marriage. The performance here is top notch – carefully measured and thoughtful, with great control of tempi – but I'd buy the whole disc just for that achingly, hauntingly beautiful Różycki theme.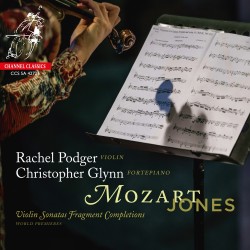 Violinist Rachel Podger, with Christopher Glynn at the fortepiano, completes her nine-CD series of Mozart's violin sonatas with Mozart Jones Violin Sonatas Fragment Completions, world-premiere recordings of six sonata-allegros and a fantasia for violin and piano, completed by Timothy Jones (Channel Classics CCS SA 42721 rachelpodger.com/recordings).
Since 2013, Jones has produced over 80 completions of some 30 Mozart fragments in all genres, a process discussed in detail in his extensive and fascinating booklet essay. Four fragments from Mozart's last decade in Vienna form the basis of the remarkable reworkings here, with multiple versions showing the various possibilities, all based on Mozart's evolving style during the 1780s. Three fragments – Fr1782c in B-flat, Fr1784b in A and Fr1789f in G – are each heard in two completions; the remaining fragment is the Fantasia in C Minor Fr1782l.
It's virtually impossible to tell when the fragments end and the completions begin – the continuity is seamless, and never for a moment do you feel as if you're not listening to Mozart.
The violin is a 1739 Pesarinius, and the fortepiano a 2019 German model by Christoph Kern, based on an 1825 original by Conrad Graf of Vienna. They are well matched, and there's a lovely tonal balance on a quite fascinating disc.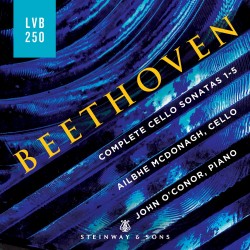 The Irish duo of cellist Ailbhe McDonagh (her first name pronounced AL-vah) and pianist John O'Conor make their contribution to the Beethoven 250 celebrations with a double-album set of Beethoven Complete Cello Sonatas 1-5, released in late May and available on all major music platforms (Steinway & Sons naxosdirect.com/search/034062301812).
O'Conor is an acknowledged Beethoven specialist, having won first prize in the International Beethoven Piano Competition in Vienna in 1973, and having recorded the complete piano sonatas as well as the complete piano concertos. McDonagh, who as a child studied piano with O'Conor, is a great partner and clearly on the same level here, the duo being as one with every nuance in dynamics and tempi in outstanding performances.
Recorded in St. Peter's Church in Drogheda, Ireland in August of last year, the sound is resonant and warm and the balance excellent. I listened on YouTube, where there is also a short documentary on the project.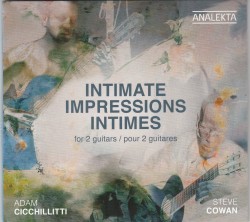 Intimate Impressions for 2 guitars, featuring Canadian guitarists Adam Cicchillitti and Steve Cowan, is a collection of 20th-century works written in Paris, heard here mostly in arrangements by the performers (Analekta AN 2 8793 analekta.com/en).
The only original piece for two guitars is the four-movement Sérénade by André Jolivet from 1959. Ravel's Sonatine, Germaine Tailleferre's Sonate pour harpe, four short pieces by the Catalan composer Federico Mompou and two Debussy Préludes – Bruyères and La fille aux cheveux de lin – are all arrangements, with the Drew Henderson/Michael Kolk arrangement of the Prélude from Ravel's Le tombeau de Couperin closing the disc.
Each guitarist has a solo track: Debussy's Arabesque No.1 for Cicchillitti, and Ravel's Pavane pour une enfante défunte for Cowan. Fine playing throughout, recorded by the always-reliable Drew Henderson, makes for a delightful CD.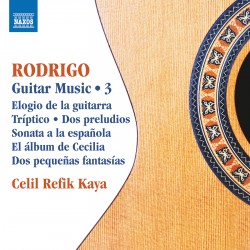 The first two volumes of the Naxos series of the guitar music of Joaquín Rodrigo featured guitarist Jérémy Jouve, but on Rodrigo Guitar Music 3, a selection of eight works ranging from 1948 to 1987, the soloist is the brilliant Turkish-American guitarist Celil Refik Kaya (8.574004 naxosdirect.com/search/8574004).
Although unable to play the guitar, Rodrigo produced about 25 solo works for the instrument, an output that, as Graham Wade notes in his excellent booklet essay, is now appreciated as one of the central pillars of the concert repertoire.
The first thing that strikes you is the wealth of variety and imagination and the sheer technical demands of the music. The second thing is how superbly Kaya meets every challenge, with faultless technique, a wide range of tone colour and dynamics and impeccable musicianship. He is joined by flutist Marianne Gedigian in two short works for flute and guitar, but the brilliance here is in the solo pieces.
Norbert Kraft's name as producer guarantees a superb recorded sound on an outstanding disc.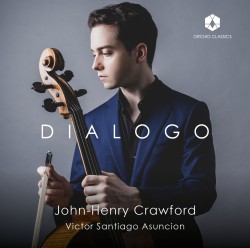 DIALOGO is the excellent debut album from the American cellist John-Henry Crawford, accompanied by the Filipino-American pianist Victor Santiago Asuncion (Orchid Classics ORC100166 orchidclassics.com).
"Dialogue" is Crawford's description of the recital's concept: Dialogo is the first of the two movements of the brief but striking Sonata for Solo Cello by György Ligeti, but the cellist also sees conversation between the partners in Brahms' Cello Sonata No.2 in F Major Op.99 and the desire for dialogue in the Cello Sonata in D Minor Op.40 by Shostakovich, who at the time of the work's composition was temporarily separated from his wife.
Crawford draws a warm, rich tone from the 200-year-old cello that was smuggled out of Austria by his grandfather following Kristallnacht in 1938, and is ably supported by fine playing from Asuncion in performances of strength, sensitivity and passion.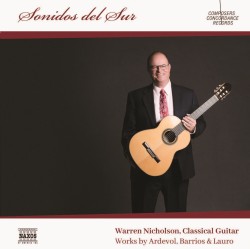 Sonidos del Sur, the latest CD from Canadian guitarist Warren Nicholson, features works by composers from Brazil, Argentina, Venezuela, Paraguay and Cuba (Composers Concordance Records COMCON0063 warrennicholsonguitarist.com).
The most well-known pieces are Agustín Barrios' La Catedral, Antonio Lauro's four Valses Venezolano and João Pernambuco's Sons de Carrilhões (Sounds of Bells). Also included are Maximo Diego Pujol's five-movement Suite Del Plata No.1, José Ardevol's three-movement Sonata Para Guitarra, Julio Sagreras' El Colibri and Dilermando Reis' Xôdô da Baiana.
As always with this player, there's solid technique and clean playing with some lovely moments, but there's also an occasional sense of earnestness and over-deliberation which tends to prevent the music from really expanding and flowing.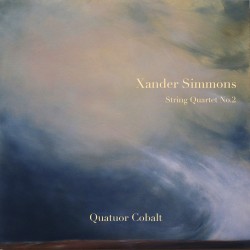 Montreal-based composer Xander Simmons has released a digital EP of his String Quartet No.2, a five-movement work lasting just over 20 minutes (xandersimmons.com).
Simmons describes it as post-minimalist in style, with lyrical, mostly tonal melodies layered on minimalist compositional structures, which is exactly how it sounds. It's a confident, highly competent piece given a terrific performance by Montreal's Quatuor Cobalt, with whom Simmons workshopped and revised the work. It's well worth a listen. You can check it out on YouTube.