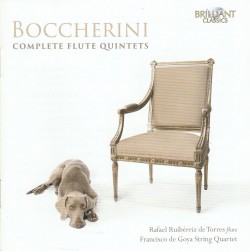 Boccherini – Complete Flute Quintets
Rafael Ruibérriz de Torres; Francisco de Goya String Quartet
Brilliant Classics 96074 (naxosdirect.com/search/5028421960746)
Virtuoso cellist and composer, Luigi Boccherini, born in 1743 in the city of Lucca in Tuscany, Italy, only 92 kilometres west of Florence, received his musical education in Lucca and subsequently in Rome. He spent some time in his mid-20s in Paris, which led to his moving to Madrid and his appointment as a musician in the household of the Infante Don Luis, brother of King Charles III.
It was there in 1773 and 1774 that Boccherini composed the two sets of Six Flute Quintets Opp.17 and 19, recorded on the first two CDs of this three-CD set. The third CD is of the Flute Quintets Op.55, composed in 1797, either in Spain or in Berlin, where he was employed by King Frederick William II of Prussia.
These 18 quintets, while far from Boccherini's total output, reveal a very skilful and original composer, different from but not inferior to his much better-known colleagues, Haydn and Mozart. First and foremost is his gift for melodic invention, evident in everything on the CD, even in the third set, composed when he was in his mid-50s.
The flute would, you might think, be a bit of a fifth wheel when added to a string quartet, but not for Boccherini. He sometimes uses the flute as a soloist, as in Op.19, No.3, which is almost a concerto, the flute even having a cadenza; sometimes as an orchestral colour to bring out a series of modulations, as in Op.17, No.1; and sometimes as a source of contrast, as in Op.19, No.4, where the flute and the cello alternate as soloists.
The performers are the Spanish Francisco de Goya String Quartet and flutist, Rafael Ruibérriz de Torres. The quartet's playing is technically flawless, and their sensitivity to each other and to the flute is exemplary. Ruibérriz de Torres always sounds as if he belongs, and his facility on the period instrument is astounding during the virtuoso passages. Bravissimi to the five for giving us this first complete recording of these hitherto neglected works.