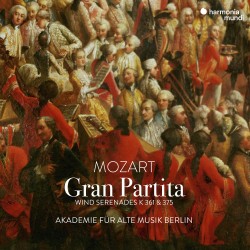 Mozart – Gran Partita & Wind Serenades
Akademie für Alte Musik Berlin
Harmonia Mundi HMM902627 (akamus.de/en)
Alte is German for "old," perhaps leading one to imagine fustiness, cobwebs or creaking joints. The Akademie für Alte Musik invert the age of the music, making old sound new, in their release of two of Mozart's beloved Wind Serenades, K.375 in E-flat Major and K.361 in B-flat Major (known affectionately as the Gran Partita). I imagine the players wearing some fashions of the later 18th century, shoe leather worn by the cobblestones of Vienna, marvelling at and revelling in the sounds they are called on to make by the newly written score; some probably in need of a bath, wishing their masters paid more, hoping to avoid cholera.
This music is never old, no matter how often it's reworked. The playing is so damned fine that every moment is a joy, conjuring the freshness that Mozart inserted into the charming form of the Serenade during its moment of popularity. Ever the canny businessman, he wrote the second of these entertainments "quite carefully" to catch the attention of a wealthy potential patron: Emperor Joseph II. Wind players and their audience are much the richer for his efforts.
There's some oddness of pitch, owing to the use of period instruments; the bassoon sound in particular is quite special. The ensemble colours are fresh and juicy, the phrasing and articulation precise. These performances rank among the finest recordings of this material I've heard. Bonus delight: the audible breath upbeats beginning each track.