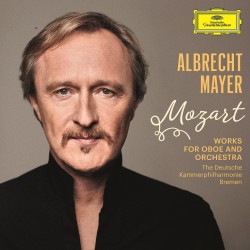 Mozart – Works for Oboe and Orchestra
Albrecht Mayer; Deutsche Kammerphilharmonie Bremen
Deutsche Grammophon (deutschegrammophon.com/en/catalogue/products/mozart-albrecht-mayer-12210)
The new Deutsche Grammophon album Mozart consists of six works transcribed for oboe, oboe d'amore and English horn, including a completed version of the first movement of the unfinished Oboe Concerto in F Major, expertly performed by internationally renowned solo oboist of the Berlin Philharmonic, Albrecht Mayer and the Kammerphilharmonie Bremen chamber orchestra. Comprised of a thoughtful selection of works originally for soprano, violin and flute, Mozart showcases Mayer at the top of his craft.
The fragmented and unfinished concerto movement was commissioned to be completed by Mayer's friend, Swiss composer Gotthard Odermatt. Keeping with the style and flare of Mozart, the fragments were imagined by Odermatt into a delightful, charming and convincing first movement. Another highlight is one of Mozart's most recognized masterpieces, the Concerto for Flute and Harp. Transposed to the key of B-flat Major, it was arranged for oboe and harpsichord, featuring Vital Julian Frey. The choice of the harpsichord was a unique and effective substitute for harp, fitting perfectly with the timbre of the oboe. It is truly an elegant performance.
With the addition of Ave verum corpus performed on English horn, Exsultate, jubilate and Ch'io mi scordi di te performed on oboe d'amore as well as the Rondo in C and Ah se in ciel, benigne stelle performed on oboe, this album really is a "best of" collection featuring the entire oboe family.
The Kammerphilharmonie Bremen follows and matches the elegant, tasteful phrasing of Mayer, highlighting the mastery of the instruments and his clear love of Mozart.