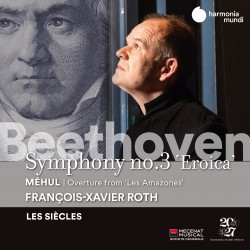 Beethoven – Symphony No.3 "Eroica"
Les Siècles; François-Xavier Roth
Harmonia Mundi HMM902421 (harmoniamundi.com/#!/albums/2692)
Beethoven's Eroica is a revolutionary work; "not only in physical scale, but in spiritual content it surpasses all classical symphonies written before." It completely broke away from the world of Haydn and Mozart, his former principal influences.
It was like a breath of fresh air in the world of music at that time. As it was written not long after the French Revolution and at the time of Napoleon as a "liberator against tyranny" (his words) Beethoven initially dedicated it to Bonaparte. That spirit prevails and the work throbs with élan and heroism in the glorious key of E-flat Major, especially in the first movement. It's full of invention, breaking traditional forms and even has such powerful dissonant fortissimo chords that the players at the premiere concert refused to play!
That was in the summer of 1804 conducted by the young Beethoven, but now in the 21st century it's in the hands of a revolutionary conductor, creator of the revolutionary orchestra with period instruments, Les Siècles. François-Xavier Roth has the ability to enter the composer's mind and capture the essence, the spirit of heroism, the dash and urgency throughout the work. Tempo is fast, but most likely the composer's original intent, the symphonic argument and all details are crystal clear. I actually saw Roth conducting the Scherzo and how simply and easily he induced a tremendous intensity and concentration into the players and what remarkable precision and lightness he achieved. The last movement is tremendous. It's fast but the orchestra is so precise that all details of the mad Romani episode and the final apotheosis of the Prometheus theme come out magnificently. The overall effect is simply overwhelming.