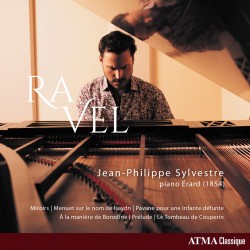 Ravel
Jean-Philippe Sylvestre
ATMA ACD2 2773 (atmaclassique.com/en)
The charismatic and rakish Jean-Philippe Sylvestre has released an album of music he knows well and truly: solo piano works of Maurice Ravel. And for some extra flair and curiosity, Sylvestre recorded on an 1854 Érard piano.
Seemingly, the decision to deliver two major cycles from Ravel's catalogue in and of itself was an easy one, but the unusual fancy for a historic instrument here serves as the surprise. Such a shift brings welcome change – crystal clear lines and sonorities emerge from this piano, nearly two centuries old. We are greeted with colourful music-making in a mode that never suggests museum vaults or relic hunting. 'Tis a newfangled lens through which to hear this music and one can't help feeling closer to Ravel.
Sylvestre's interpretations reveal an artist's singular reconceiving of beloved repertoire: having learned it, put it away, then re-learned and now un-learned so as to match the demands of an older instrument few are accustomed to playing. At times, the mid-19th-century Érard does hinder the execution, with reduced reverb available and less hammer/damper agency. The performer must work many times harder to achieve the usual results begot from a modern piano. But the efforts seem worth it for Sylvestre as he achieves quirky moments of expressive beauty, textural novelty and uncanny sonorities. An example is the Alborada del grazioso, with its chiselled, wood-like clarity and revelatory repeated notes, speckled with equal parts dust and morning dew.