Hans Rott – Orchestral Works Vol.1
Gurzenich Orchester Köln; Christopher Ward
Capriccio C5408 (naxosdirect.com/search/c5408)
Hans Rott – Orchestral Works Vol.2
Gurzenich Orchester Köln; Christopher Ward
Capriccio C5414 (naxosdirect.com/search/c5414)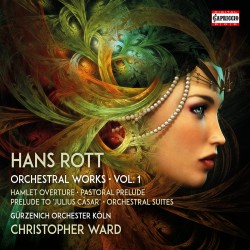 Languishing in total obscurity for over a century, the music of Hans Rott (1858-1884) first came to light through Gerhard Samuel's 1989 Cincinnati Philharmonia Orchestra recording of his Symphony in E Major. Rott's surviving works date from his time as a student at the Vienna Conservatory, where his classmates included Gustav Mahler and Hugo Wolf. Mahler in particular treasured him, proclaiming "He and I seem to me like two fruits from the same tree, brought forth by the same soil, nourished by the same air." Curiously, fugitive thematic references to Rott's works are echoed in Mahler's earlier symphonies. Alas, Rott's fate was not a happy one. The aesthetics of his day were wracked by a cultural war between the progressive advocates of Wagner's "music of the future" and the traditionalists, devotees of the absolute music of Brahms. Rott, as revealed in this comprehensive survey, would seem to fall between these two camps, but was rejected for his Wagnerian tendencies when submitting his works to competitions. In 1880 he brought his symphony to Brahms himself for his assessment and was rudely told he had no talent whatsoever. This sent him over the edge; not long after he boarded a train on his way to take up a demeaning provincial job as an organist when he spotted a man in the carriage about to light a cigar. He threatened him with a pistol, screaming that Brahms had packed the train with dynamite! Hauled off by the authorities, he spent the last years of his life in an insane asylum, where he died of tuberculosis at the age of 25.
The first volume of these recordings includes a number of Rott's lesser-known works. There are two overtures, a Prelude to Julius Caesar and the premiere recording of a reconstruction of his Hamlet Overture, along with movements from two unfinished orchestral suites. Stylistically Rott covers a wide ground; yes, there are more than a few stentorian Wagnerian passages, but they are filtered through the lens of his organ teacher Anton Bruckner, his sole advocate amongst the notoriously reactionary Conservatory faculty. The most substantial work is the closing Pastorale Prelude, which ends, somewhat incongruously, with an elaborate fugue.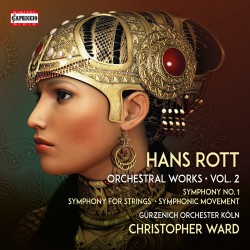 The second volume saves the best for last. The E Major Symphony remains an astonishing achievement, falling just short of the mark due to its rambling finale, reminiscent of (wait for it…) Brahms! It is his most celebrated work, having been recorded a dozen times to date. A three-movement Symphony for String Orchestra in A-flat Major follows, the prim and proper serenades of a 16-year-old tyro aiming to please. The volume concludes with another premiere of sorts, the Symphonic Movement in E Major, an earlier version of the opening of the Symphony.
These two volumes, impressively played by the distinguished Gürzenich orchestra, sensitively interpreted by the young English conductor Christopher Ward, and expertly recorded by the Capriccio team, are a must-have item for all enthusiasts of this unjustly neglected composer.