Vaughan Williams – Symphonies 4 & 6
London Symphony Orchestra; Sir Antonio Pappano
LSO Live LSO0867D (lsolive.lso.co.uk)
Vaughan Williams – Symphony No.5
BBC Symphony Orchestra; Martyn Brabbins
Hyperion CDA68325 (hyperion-records.co.uk)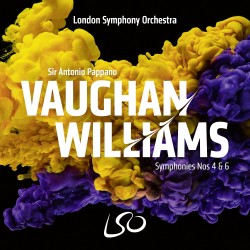 The latest release on the LSO Live label, recordings where the orchestra is the major stakeholder, features two symphonies by Ralph Vaughan Williams.
Many diehard fans of the Fourth Symphony will point to the 1937 recording, conducted with relentless fury by the composer himself, as the gold standard, but for me, the benchmark recording of this symphony (and, indeed, all of the others) is that of Sir Adrian Boult, who worked closely with RVW for several decades. Pappano's interpretation equals and at times surpasses these, bringing an appropriate anger and relentlessness to this groundbreaking work.
The same can be said of Pappano's interpretation of the Sixth Symphony. Composed in four distinct movements without pause, from its opening notes to its life-changing sempre pianissimo finale, you get the feeling that you are hearing a monumental and important symphony from the 20th century. And you are!
The London Symphony Orchestra is no stranger to the works of Vaughan Williams, having recorded the entire cycle of nine symphonies on more than one occasion – the 1970s cycle by André Previn being the most celebrated. And as these are live performances, there is a resulting excitement to the playing that can't be matched in studio recordings.
I have one small quibble with the otherwise excellent booklet notes: the alternating triads that close the epilogue of the Sixth Symphony are E Minor and E-flat Major sonorities, not E Minor and E Major as noted.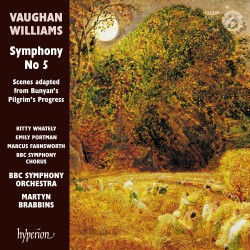 The release of the Fifth Symphony is part of a projected complete cycle of Vaughan Williams symphonies by Martyn Brabbins and the BBC Symphony Orchestra on the Hyperion label. Brabbins clearly loves this piece and under his baton the themes seem to unfold in a natural, organic way – unhurried, yet with a careful eye on the overall structure of the entire work. The orchestra's winds sparkle in the second movement and its strings luxuriate in the beauty of the third movement Romanza. Brabbins deftly handles the architecture of the finale, making the cyclical return of the opening seem inevitable and treating the work's closing pages more like a benediction than a mere coda.
Since the Fifth Symphony contains themes originally composed for RVW's then-unfinished opera, The Pilgrim's Progress, it seems appropriate to include music from that on this release. The scenes are mostly incidental music, and they don't hold together as a concert work for me, but as a RVW enthusiast, I am very glad to get to hear music from a work that preoccupied him for over 40 years of his long life.