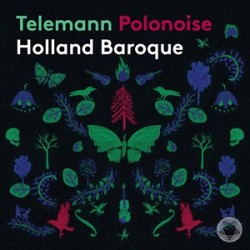 Telemann – Polonoise
Holland Baroque; Aisslinn Nosky
PentaTone PTC5186878 (naxosdirect.com/search/827949087868)
One walks a fine balance when performing early music. Often, musicians and audiences who perform, record and appreciate early music are, and I say this kindly, authenticity fetishists who value the period veracity of everything from the repertoire, tempo and interpretation of the music to, in some cases, the lineage and pedigree of the instruments played, to the ensemble dress. Holland Baroque, led by Judith and Tineke Steenbrink (who supply new arrangements of Georg Philipp Telemann's familiar music for the recording here), manages to thread the difficult needle of adhering to the purity and concretized tradition of Germanic Baroque performance while imbuing a flair for innovation that places this musical style in a contemporary setting that includes elements of improvisation and innovative collaboration. It is little wonder then that the ensemble has won fans worldwide.
Here, on their second strong release for PentaTone Records, the group is sure to earn even more accolades and listeners. Joined by Canadian early music violinist Aisslinn Nosky, the group explores Telemann's Danses d'Polonié (TWV 45), which the composer wrote during his Polish travels, and which had a lasting impact upon his compositional style and artistic output. Cinematic and rich in its thematic mining of the imagery, landscape and nature of Poland and its surroundings, this recording is a winner. Sure to delight connoisseurs of early music while making fans out of other listeners too.