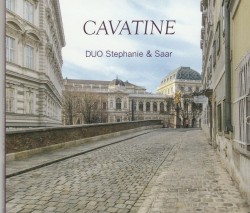 Cavatine
DUO Stephanie and Saar
New Focus Recordings FCR274 (stephsaarduo.com)
This piano duo disc by Stephanie Ho and Saar Ahuvia (DUO) has expressive virtuosity written all over it. It's not simply four-hands piano that has been captured on disc, but repertoire as poignant as it is rare. Its late Beethoven is paired with late Schubert. And its music is evocative of the unrequited love both men lived with. In Schubert's case, it was also a life lived in the permanent and towering shadow of the master, so much so that he – in an almost Shakespearean kind of twist – was even buried next to Beethoven.
All of this spills over into the highly charged program on Cavatine. DUO Stephanie and Saar has completely subsumed every emotive aspect of this music. There is even an extraordinarily eerie seamlessness of how Beethoven's String Quartet in B-flat Major Op.130 slides into the Cavatine, then into the Grosse Fuge Op.134, before ending up in Schubert's Fantasie in F Minor D940.
This is a made-for-each partnership. The amazing rapport between Ho and Ahuvia and their impeccable style unite to produce winning results. The warmth and tangible empathy on display here bring out all of the music's emotive aspects – especially in the intensely lyrical movements of the Quartet in B-flat and the Cavatine, which gives way to the chromatic boldness of the Grosse Fuge and finally in the rhapsodic features of Schubert's Fantasie. All of this makes a disc to absolutely die for.