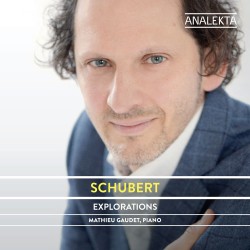 Schubert: Explorations
Mathieu Gaudet
Analekta AN 2 9184 (analekta.com/en)
One year ago, in May 2020, this reviewer wrote of a new release from pianist Mathieu Gaudet. Late Inspirations was the second installment of an ambitious project to record the entirety of Franz Schubert's sonatas and major works for piano. Since then, Gaudet has added another two discs to the anthology: The Power of Fate in October 2020 and Explorations in March 2021. What a thrill it has been to discover each of these records in an alimentative journey comprised of attentive listening. From its wondrous, heights to its simplest of gifts, Schubert's art is a way of life for Gaudet.
As a fulltime emergency physician, Gaudet has persevered through a harrowing year for human beings on our planet, combatting a health crisis on a magnitude not seen for a century. The compassion, care and healing that Gaudet surely delivers to his patients is transfused – enviably – to his musical artistry. As listeners around Gaudet's keyboard, we are in safe hands. His deeply empathic connection with Schubert is genially revealed, phrase by phrase, piece by piece, as we are led through a lifelong tended garden, ever-watered with a sublime Schubertian prowess.
A consistent feature of each disc thus far is a blending of the known with the unknown. Explorations opens with the familiar Moments Musicaux, D780. What comes next is unexpected: three fleeting German Dances, D972 that sway and yodel with a folksy kind of charm.
Of Gaudet's many attributes, his rhythmic sense of rightness remains high atop the list. With a shrewd savvy for pulse on the highest order, Gaudet sculpts phrases and perfectly arrays accompaniments. Such rhythmic irresistibility – such fantastic finesse – proffers trips of light indeed. His pianism is capable of casting spells of merriment, akin to the province of tunesmiths who magically set their songs ablaze, dancing and frolicking in the hot sun. Daylight ordains such tales of love and loss, of anguish and dubiety. And yet, a celestial certitude hovers over such oases of musical expression. Such is the stuff as Schubert's art is made on.