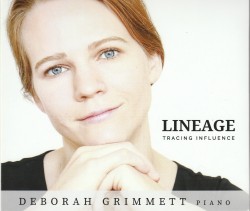 Lineage – Tracing Influence
Deborah Grimmett
New Classic Records NC01 (deborahgrimmett.com)
The full range of both the beautiful – and beautifully recorded – Glenn Gould Studio piano, and a solo piano repertoire that spans the historical continuum from Brahms and Debussy to such contemporary composers as Iman Habibi and the little-known Rhoda Coghill (this may be the recording premiere of any of Coghill's compositions) is on full display here with this wonderfully expressive FACTOR and Canada Council for the Arts-supported 2021 release. Exhibiting a deft touch and clear musicality, Toronto pianist Deborah Grimmett presents an intimate view into not only her own considerable musical talent, but her biographical story of overcoming a repetitive strain injury from over-practising as a music student, to stepping away from the piano in order to heal and then, finally, returning to the instrument to make what is clearly a meaningful and deeply personal recording.
This is one of those presentation formats (solo piano) and recordings (live off the floor, close-miked instrument) that when you take away any other extraneous factors, all that is left is the musicality and interpretive power of the performer and the music itself. As such, Lineage: Tracing Influence does a fine job, offering one of those listening experiences where fans of classical music, solo piano or just those who need some auditory solace from the everyday banality of life (particularly so during yet another lockdown) can immerse themselves in order to derive pleasure, meaning and inspiration.