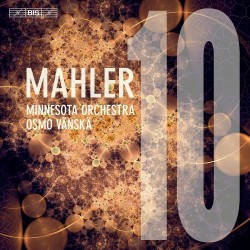 Mahler – Symphony No.10 in F-sharp Major
Minnesota Orchestra; Osmo Vänskä
Bis BIS-2396 (naxosdirect.com/search/bis-2396)
Mahler's final work lay hidden for decades as shorthand sketches still awaiting a full orchestration. Alas, the completion of the work was tragically cut short by the composer's premature death from a broken heart at the age of 50. Fragments of this manuscript were subsequently revealed over the decades by his imperious widow Alma Mahler-Gropius-Werfel, who considered the work to be a private love letter to herself and only relented to allow the work to be published after listening to a BBC broadcast tape of the "performing edition" that Deryck Cooke prepared for the Mahler centenary in 1960. Cooke's realization underwent subsequent refinements and his third and final 1976 edition, incorporating previously suppressed materials, has become the preferred version among several alternatives.
Recordings of the work are relatively rare, as a fair number of conductors have questioned the legitimacy of the score. These skeptics will, I hope, be won over by this commanding performance from the Minnesota Orchestra, which ranks among the finest available. The work is in five movements, similar in structure to Mahler's Seventh Symphony. The slower first and fifth movements are tragic cries of despair while the inner, faster movements are comically sarcastic, echoing the scherzo and rondo movements of his Ninth Symphony. There is a wonderful spontaneity to Osmo Vänskä's choice of tempos in these central movements, strikingly so in the accelerations of the unusually asymmetrical measures of the second movement, which tumble over themselves in a delightful confusion. The longer outer movements feature the highly refined playing of the string section, hovering at times at a nearly inaudible level, with superlative contributions from the solo wind instruments. Add to this excellent program notes and stellar sonics from the BIS recording team and you have yourself an outstanding addition to the discography of this passionate, autobiographical masterpiece. Not to be missed!