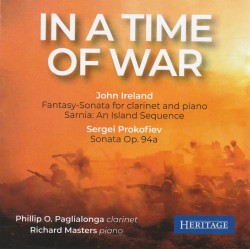 In a Time of War
Phillip O. Paglialonga; Richard Masters
Heritage HTGCD 173 (heritage-records.com)
In a Time of War, featuring clarinetist Phillip Paglialonga and pianist Richard Masters, proffers works by two composers suffering exile during WW2. An odd pairing to be sure, but it's possible to hear some common ground between Serge Prokofiev and John Ireland. If you listen to the late moments of Ireland's Fantasy-Sonata for Clarinet and Piano there's an argument to be made. Written in 1943, the same year as Prokofiev's Flute Sonata Op.94, the Ireland work does what a lot of mid-century English music does: explore modernity and expression, but aloof in a way that might evoke Prokofiev the man, although not his music.
I think clarinetists should leave well enough alone when it comes to poaching repertoire, especially in the case of the Prokofiev, which after all was more or less stolen from flutists for the already-crammed violin library by David Oistrakh (with Prokofiev's complicity!). Sorry, flutes, it's a better piece in the second take. Opus 94a is heard as often, if not more than the original. The clarinet version here should maybe be called Opus 94a(b), I don't know. It's very dicey, range-wise, and hardly idiomatic for the clarinet. Paglialonga manages the high tessitura quite well, but most tempos are slower than you might be used to, and the balance has his sound too far in front of Masters, which jars a bit at the opening. The duo's rendition is a work apart from the original, as a quick reference to Oistrakh's recording will confirm.
A third work is included, also from 1943, Ireland's Sarnia: An Island Sequence, a solo Masters performs with more freedom than the other tracks demonstrate. These are good performances, if somewhat staid.