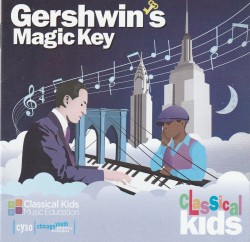 Classical Kids: Gershwin's Magic Key
Chicago Youth Symphony Orchestras
Classical Kids Music Education 270541 (classicalkidsnfp.org)
Gershwin's Magic Key is the first new album in 20 years from the award-winning platinum-selling Classical Kids, most famous for Beethoven Lives Upstairs. This high quality, dynamic studio recording features the Chicago Youth Symphony Orchestras conducted by Allen Tinkham, voices of professional actors Elic Bramlett and Leslie Ann Sheppard, and head writer/music supervisor/featured pianist Will Martin, who premiered the original live concert.
Set in 1920s New York, the three-act story revolves around a newspaper boy's chance meeting with composer George Gershwin, leading to the two travelling through New York, verbally telling stories based on Gershwin's life and the times, intertwined with his music. The opening attention-grabbing string swirls, clear spoken words, piano solo and wailing clarinet set the stage for a fast-paced, exciting fact-based production both children and adults will love. The supportive spoken tips from Gershwin, such as "I was a changed person learning piano; Every sound is music; Do not let anyone tell you what you can or cannot be;" are positive reinforcement for the boy, and all children listening and reading the liner notes.
Gershwin's compositions featured include fabulous orchestral renditions of Summertime, An American in Paris and the upbeat singalong/dance-along I Got Rhythm. Educational musical outtakes from other composers include Dvořák's Humoresque, the Tin Pan Alley hit Take Me out to the Ballgame, and 1920's Baby Face. Finale recreates the world premiere of Rhapsody in Blue, from the piano/orchestra exuberant performance to the recording's closing audience cheers. Bravo!