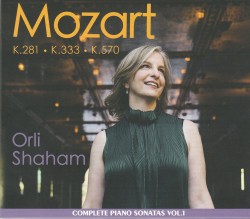 Mozart – Complete Piano Sonatas, Volume 1
Orli Shaham
Canary Classics CC19 (canaryclassics.com)
Young Mozart, the proverbial wunderkind, was known primarily as a performer rather than a composer – one of the greatest exponents of the then, relatively new fortepiano. The antithesis of Franz Liszt, who rose to pianistic eminence almost a century later, Mozart encouraged simplicity and clarity over wizardry. This is perfectly reflected in his sonatas, which he only began writing in 1774.
Strangely, virtually all 18 of Mozart's piano sonatas are neglected by pianists and listeners although Mitsuko Uchida, Maria-João Pires and Glenn Gould (who famously disparaged Mozart in one of his CBC broadcasts) have recorded interpretations of the complete sonatas. And now the brilliant young Orli Shaham gives notice that she intends to follow suit with the first of her recordings Mozart – Complete Piano Sonatas (Vol.1).
In the wrong hands Mozart's outwardly simple sonatas can, indeed, sound simplistic and uninteresting – even formulaic. But Shaham brings out all the delights of the sonatas in this recital that features one early and two late works. Her delicate phrasing creates a feeling of innocent melodiousness, yet each movement is intelligently worked out, and Shaham's subtle manipulation of timing conveys a strong sense of Mozart's puckish and quick-witted compositional approach.
Shaham's interpretation of the early Sonata in B-flat Major No.3 K281 is gritty. Meanwhile the B-flat Major No.13 K333 and B-flat Major No.17 K570 have been infused with great depth of colour, emotional range and well-tuned melodious elegance.