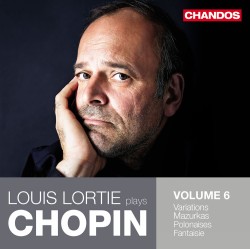 Louis Lortie Plays Chopin, Volume 6
Louis Lortie
Chandos CHAN 20117 (naxosdirect.com/search/chan+20117)
The music of Chopin is, for Louis Lortie, a vocational hallmark and the making of his career. Now, six records deep into the composer's catalogue, Lortie includes a fantasy, an early set of variations and assorted Polish national dances on his latest release. For the dances, an objective, no-nonsense approach is favoured. His sense of rhythmic continuity betrays an aspiration to expose the inherent structures just as they are, without affectation or personalized dilution. The results seem born of the first half of the 20th century – Lortie never handles this music too preciously, with the essence of the dance always at the fore.
When considering Chopin, contrast between dark and light is essential. Lortie excels at the conveyance of Slavic expression through the lens of extreme sentiment, often using fine-tuned pacing, silence and varied dynamics to admirable effect. Of unexpected delight is the "Military" Polonaise, Op.40 No 1. Not such a fashionable thing to record these days, Lortie offers it up with unabashed affection and aristocratic poise. Arguably saving best for last, the Fantasy in F Minor, Op.49 concludes the album, highlighting the attributes for which Lortie is celebrated. Lucid and buoyant, it is music sculpted with chiselled lines and acute structural sense. At moments on this disc, a seasoned sort of beauty takes hold of our ears, wherein a keyboard's conjuring casts an airy, aural spell. In the battle of dark and light, Lortie's own brand of luminescence wins out every time.