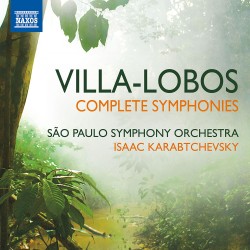 Villa-Lobos – Complete Symphonies
São Paulo Symphony; Isaac Karabtchevsky
Naxos 8506039 (naxosdirect.com/search/8506039)
Among the amazingly prolific Heitor Villa-Lobos' 2,000-plus works are 11 audacious, spellbinding yet little-known symphonies, composed at opposite ends of his career. Except for the epic Symphony No.10, they sort themselves into pairs, stylistically and by date of composition.
As a boy, Villa-Lobos learned to play clarinet and cello from his father. Adding guitar to his skills, he performed Brazilian popular and folkloric music with salon ensembles, and symphonic and operatic repertoire as an orchestral cellist. Slighting institutional composition study, Villa-Lobos absorbed Vincent d'Indy's pedagogical Cours de Composition Musicale, leading to his trademark mix of European late-Romanticism with Brazilian melodic and rhythmic exoticism.
Symphonies No.1 "Unforeseen" (1916) and No.2 "Ascension" (1917, revised 1944), with their lush sonorities, gorgeous, broadly flowing string melodies, chattering woodwinds suggestive of an active Brazilian rain forest, brass fanfares and throbbing percussion, find the young Villa-Lobos effectively creating a stereotypical "Hollywood sound" well before sound's arrival in Hollywood.
After World War I ended, Villa-Lobos was commissioned by Brazil's National Institute of Music to compose three celebratory symphonies: No.3 "War," No.4 "Victory" and the now-lost, never-performed No.5 "Peace," perhaps unfinished. Requiring huge forces, "War" and "Victory" (both 1919) contain martial fanfares, anguished dirges and percussion-heavy, explosive battle music, "Victory" ending in a triumphal fortississimo.
Villa-Lobos wouldn't produce another symphony for 24 years, while composing many other orchestral, chamber and vocal works, eight of his nine Bachianas Brasileiras, all 17 Chôros and dozens of piano pieces, also serving as director of music education for Brazilian public schools.
The angular themes of Symphony No.6 "On the Outlines of the Mountains" (1944) were derived by tracing the contours of photographed mountaintops. The opening movements conjure foreboding, rugged, desolate vistas; the Allegretto and final Allegro bathe the vast panoramas in bright sunlight. The four movements of Symphony No.7 "Odyssey of Peace" (1945) closely mirror those of No.6, with similar tempo markings, timings and moods. Here, turbulence and slowly drifting tonal centres precede two buoyantly joyous movements, the closing seconds echoing the bombast of the "Victory" finale after World War I.
The unsubtitled Symphonies No. 8 (1950) and No.9 (1952) are Villa-Lobos' most concise – No.9, just under 22 minutes, is the shortest of all. Both are infused with confident, upbeat melodies, mechanized urban rhythms and dense metallic textures, reflecting the revitalized post-war sense of optimism and material progress.
After these two succinct symphonies evoking modern technology, Villa-Lobos about-faced with the grandiloquent, hour-long Symphony No.10 "Ameríndia" for large orchestra, tenor, baritone and bass soloists and chorus singing in Portuguese, Latin and indigenous language Tupi. (In this performance, the entire tenor section sings the tenor solo.) Commissioned for São Paulo's 1954 quadricentennial, "Ameríndia" also bears the designation Oratorio and a second subtitle, "Sumé, Father of Fathers." Sumé, the mythical bringer of knowledge to pre-Columbian Brazil, is here conflated with the 16th-century Jesuit missionary St. José de Anchiera. The music for this sonic extravaganza creates a blazingly coloured tapestry weaving paganism, Christianity, mystical lamentation, ecstasy and exultation. It's totally thrilling!
The opening fanfares, lush melodies and exotic colours of Symphony No.11 (1955) recall Villa-Lobos' cinematic early symphonies, now with even greater rhythmic, harmonic and textural complexity. No.12 (1957), completed on Villa-Lobos' 70th birthday, features more fanfares, vibrant rhythms and colours, a mystery-shrouded, near-atonal Adagio and a final, multi-thematic, kaleidoscopic display of orchestral fireworks.
Further enriching this six-CD treasure-trove are two folklore-inspired works depicting mythical jungle spirits: the tone-poem Uirapuru (1917) and the choral cantata Mandu-Çarará (1940), sung in indigenous language Nheengatu. (Texts and translations for this and "Ameríndia" are provided.)
With definitive, super-charged performances by the São Paulo Symphony Orchestra conducted by Brazilian-born Isaac Kabatchevsky, this set is most enthusiastically recommended!