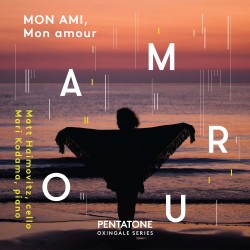 In 2017, cellist Matt Haimovitz was working on the Poulenc Sonate with a student when he tripped and fell, dropping his 1710 Venetian Matteo Goffriller cello – his "friend" – and breaking the neck clean off the body. Following 15 months of painstaking repair, MON AMI, Mon amour is the first CD on which Haimovitz and his cello are reunited, accompanied by Mari Kodama in a recital of French music (PENTATONE Oxingale PTC 5186 816 naxosdirect.com/search/ptc5186816).
That same Poulenc Sonate opens a disc which includes the Debussy Sonate, Fauré's Papillon and Après un rêve, Milhaud's Élégie and Nadia Boulanger's Trois pièces. Completing the program are Haimovitz's own arrangements of Ravel's Kaddish and the Deux pièces pour violon et piano by Nadia's younger sister Lili Boulanger, the latter work featuring terrific agility and technique in the highest register by Haimovitz.
Recorded in June 2019 with "no worry of social distancing and masks," an outstanding CD is complemented by Haimovitz's excellent booklet notes, written in Montreal in June 2020 after four months of quarantine and highlighting the stifling restrictions resulting from the COVID-19 pandemic.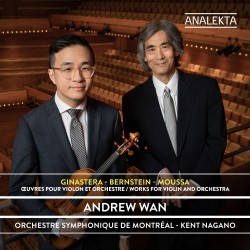 On Ginastera – Bernstein – Moussa violinist and OSM concertmaster Andrew Wan presents three major works with the Orchestre Symphonique de Montréal under Kent Nagano (Analekta AN 28920 analekta.com/en).
Alberto Ginastera's Violin Concerto Op.30 from 1963 makes for an interesting opening to the CD. Ostensibly in three movements, it consists of 11 short sections. An opening Cadenza is followed by six extremely brief Studies and a Coda, an Adagio for 22 Soloists acting as a second movement before a Scherzo pianissimo and a Perpetuum mobile provide a two-part third. The soundscape is very much mid-20th century, reminiscent of Berg at times and with more than a hint of the Barber concerto in the Perpetuum mobile.
Bernstein's Serenade for Solo Violin, Strings, Harp and Percussion (after Plato's Symposium), from 1954, is an attractive five-part work described by the composer as a series of related statements in praise of love, inspired by his reading of the Plato work.
Samy Moussa was born in Montreal in 1984. His Violin Concerto "Adrano," written in 2019 on an OSM commission, was inspired by a visit to Mount Etna, Adrano being an ancient fire god said to have lived beneath the volcano. It's a very effective and accessible work of four relatively brief sections.
Wan is a terrific player, handling the varying stylistic and technical challenges with impressive ease on a fascinating CD.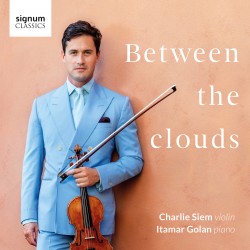 The English violinist Charlie Siem is in great form on Between the clouds, ably supported by his regular recital partner Itamar Golan in a recital of light but never insubstantial pieces (Signum Classics SIGCD652 naxosdirect.com/search/sigcd652).
Siem has just the right blend of virtuosity, style and taste to show these charming works at their best, playing with effortless ease throughout a delightful disc. There are three pieces by Wieniawski –Légende Op.17, Polonaise No.1 Op.4 and Polonaise Brillante No.2 Op.21 – and five by Kreisler: Tambourin chinois Op.3; Recitativo und Scherzo-Caprice Op.6 and Three Alt-Wiener Tanzweisen – Schön Rosmarin, Liebesfreud and Liebesleid. Elgar's Chanson de Matin and Chanson de nuit, Sarasate's Introduction et Tarantelle, Paganini's Cantabile, Godowski's Alt Wien (in the Heifetz arrangement) and the Chaconne attributed to Vitali fill out a dazzling program that ends with Siem's own arrangement of Britten's gentle The Sally Gardens.
Siem draws a rich, warm tone from his 1735 Guarneri del Gesù "D'Egvill" violin on an absolute gem of a CD.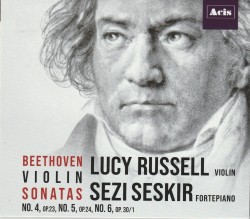 Lucy Russell, the leader of the Fitzwilliam String Quartet, is the violinist on Beethoven Violin Sonatas, accompanied on fortepiano by Sezi Seskir in performances of the Sonatas No.4 in A Minor Op.23, No.5 in F Major Op.24 "Spring" and No.6 in A Major Op.30/1 (Acis APL29582 acisproductions.com).
Despite the CD's title these works were originally designated (as were similar compositions at the time) as being for keyboard with accompanying violin, and the excellent balance here never lets the violin dominate.
Both players are equally at home on modern or period instruments, which seems to add an extra dimension to the playing in the period set-up here: the fortepiano is a Thomas and Barbara Wolf copy of a Johann Schanz instrument; the violin a Ferdinando Gagliano from the late 1700s with an open gut D string in addition to the A and E, and a John Dodd bow.
The performances are absolutely top-drawer, simply bursting with life and with excellent ensemble work, great dynamics and virtuosity galore.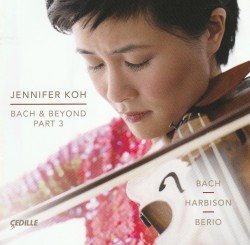 Violinist Jennifer Koh completes her outstanding solo series Bach & Beyond with Part 3 Bach – Harbison – Berio, a 2CD set priced as a single disc and featuring Bach's Sonatas No.2 in A Minor BWV1003 and No.3 in C Major BWV1005, Luciano Berio's Sequenza VIII for solo violin from 1976 and John Harbison's For Violin Alone, written for Koh in 2019 (Cedille Records CDR 90000 199 cedillerecords.org).
CD1 has the A-minor sonata and the Berio work, the latter a tribute to the Ciaccona from Bach's D-minor partita. CD2 has the C-major sonata with its monumental Fuga, and the world-premiere recording of the Harbison, a seven-movement dance suite that is closer in spirit to the Bach partitas than the four-movement sonatas. Koh, as always, is faultless in her technique and sensitive and intelligent in her interpretations.
Based on her recital series of the same name, Koh's three-volume Bach & Beyond set has brilliantly realized her desire to "strengthen the connection between our past and present worlds through a historical journey." It's an outstanding addition to the solo violin discography.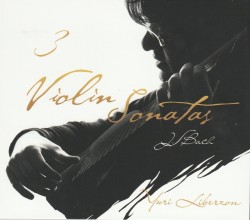 The two Bach works turn up again on 3 Violin Sonatas, a simply superb CD with classical guitarist Yuri Liberzon playing the Bach Unaccompanied Violin Sonatas in G Minor BWV1001, A Minor BWV1003 and C Major BWV1005 in transcriptions by Liberzon's former teacher Manuel Barrueco (Laudable Records yuriguitar.com).
The transcriptions faithfully follow the Bach Gesellschaft Edition with very few additions or digressions; there's the occasional filling-out of a chord or of an implied harmony, a pedal note allowed to sound through the bar or an octave change in the bass, but essentially the music runs as written, particularly in the fast linear movements.
In fact, at times it sounds even better than with violin. The multiple stops – particularly the triple and quadruple stops – present huge technical challenges for the violinist, especially when the melodic line runs through the middle, but on the guitar the issue presents less of a problem, the three Fuga movements in particular sounding smoother, cleaner and more clearly defined.
With beautifully clean playing, outstanding definition and line, a lovely variation of tonal colour and a perfect recorded sound, Liberzon gives a performance that fulfills all the technical and interpretative requirements that this challenging music demands. It's an immensely satisfying musical experience on every level.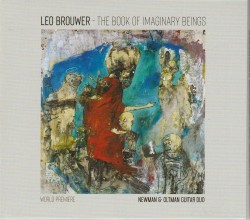 On Leo Brouwer – The Book of Imaginary Beings: The Music of Leo Brouwer for Two Guitars, the Newman & Oltman Guitar Duo of American guitarists Laura Oltman and Michael Newman celebrate not only their 40th anniversary season but also the world-premiere recording of Brouwer's new guitar duet El Libro de los Seres Imaginarios, the centrepiece of a CD dedicated to his works for two guitars (Musicmasters Classics CD 1001 musicmastersclassics.com).
Beatlerianas consists of quite beautiful arrangements of The Fool on the Hill and She's Leaving Home, credited to Lennon & McCartney but essentially two of Paul McCartney's loveliest songs. Música Incidental Campesina from 1978 is a series of extremely short vignettes – about one minute each – inspired by Cuban folk music.
The four-movement title work from 2018 portrays figures from the book of the same name by the Argentine author Jorge Luis Borges. It is dedicated to the duo, who describe it as "an entirely Latin American creation, wildly intense and softly intimate."
Superb playing, perfectly recorded, makes for a captivating, albeit at 28 minutes a disappointingly short, CD.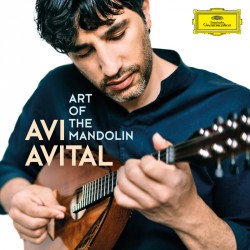 On Art of the Mandolin the brilliant Avi Avital presents original compositions for the instrument that span almost 300 years (Deutsche Grammophon 00289 483 8534 deutschegrammophon.com/en/catalogue).
Vivaldi is represented by his Concerto in G Major for 2 Mandolins, Strings and Basso continuo, Avital being joined by Alon Sariel on second mandolin and the Venice Baroque Orchestra. Beethoven's Adagio ma non troppo in E-flat Major WoO43/2 for Mandolin and Harpsichord or Harp features Anneleen Lenaerts on harp, with the other early work being Domenico Scarlatti's Sonata In D Minor K89 for Mandolin and Basso continuo.
In the latter work Avital is joined by several players who feature in the remaining contemporary works: Death is a Friend of Ours for Mandolin, Guitar, Harp, Theorbo and Harpsichord by David Bruce (b.1970), Sonata a tre for Mandolin, Guitar and Harpsichord by Paul Ben-Haim (1897-1984) and Carillon, Récitatif, Masque for Mandolin, Guitar and Harp by Hans Werner Henze (1926-2012).
The terrific Prelude for Solo Mandolin by Giovanni Sollima (b.1962) with its southern Italian folk dance styles completes the disc.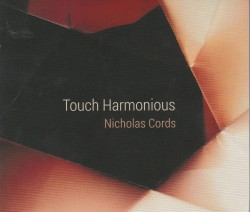 Touch Harmonious (In a Circle Records ICR018 inacircle-records.com) is the second solo album from Brooklyn Rider and Silk Road Ensemble violist Nicholas Cords, following his 2012 CD Recursions.
Much of the work on the CD was done when the COVID-19 situation was developing, and the album's title is taken from a 1740 Samuel Johnson epitaph for a musician that, says Cords, reminds us that music's power to sooth and heal is essential.
Cords' arrangement of the Prelude by viola da gamba virtuoso Carl Friedrich Abel opens the CD, with Bach's Cello Suite No.1 in G Major BWV1007 and Handel's Rinaldo aria Lascia ch'io panga in Toshio Hosokawa's arrangement closing the recital. Inspired by Rostropovich's Bach playing, Britten's Cello Suite No.3 Op.87, in a transcription by Nobuko Imai, is at the heart of the CD, surrounded by Anna Clyne's Rest These Hands and world-premiere recordings of two works written specifically for this album: Dana Lyn's endlessly i would have walked; and Dmitri Yanov-Yanovsky's Short Epitaph, based on the La Folia progression.
Cords is in great form throughout this fascinating program, technically superb and with a clear, warm tone across the whole range of his instrument.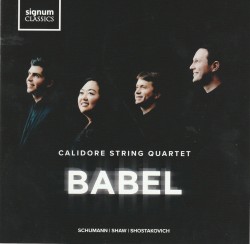 On Babel, the new CD from the Calidore String Quartet, the focus is the desire "to explore the innate human drive for communication" and also to explore what happens when music substitutes for language (Signum Classics SIGCD650 naxosdirect.com/search/sigcd650).
Schumann's String Quartet No.3 Op.41, written just months after he was finally able to marry his beloved Clara, and Shostakovich's String Quartet No.9 in E-flat Major Op.117, in which Shostakovich showed music's power to substitute for language as an act of defiance by using Jewish idioms in a work otherwise clearly acceptable to the Soviet regime, surround Caroline Shaw's Three Essays, written for and premiered by the Calidore ensemble at the 2018 BBC Proms but inspired by Shaw's concern at the national unrest leading to and resulting from the 2016 presidential election, and the language being used increasingly to spread confusion and misinformation.
The serious intentions threaten to overwhelm the actual music, but there's fine playing on a CD that again reflects the COVID-19 situation, the quartet saying that they hope this album "will connect us with our audiences at a time when we are prevented from performing in-person concerts."