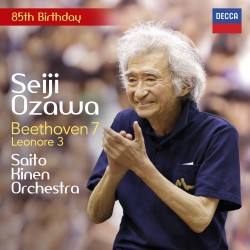 Beethoven 7; Leonore 3
Saito Kinen Orchestra; Seiji Ozawa
Decca Records (ozawa-festival.com/en/news/2020/07/30/130000)
How wonderful that there is still a Seiji Ozawa! In celebration of the great conductor's 85th birthday, here is a live recording of two favourites from the Beethoven shelf: the symphonic-sounding Ouverture to Leonore No.3, Op.72, and Symphony No. 7 in A Major, Op.92.
Wagner described this symphony as "the apotheosis of the dance." (The question of what Wagner might have known about dance is for another time and place.) Having seen Ozawa rehearse the Vienna Philharmonic, I can think of no more fitting piece for a celebration of his own style of leading. He literally looked like he was dancing the cues, his entire body conducting. That was almost two decades past, but I hope this very senior, venerable citizen can still cut a rug.
This is a keepsake as much as a recording, certainly for thousands of Ozawa partisans. It was taken from a live performance, featuring the Saito Kinen Orchestra, a band who form once yearly in honour of their teacher Hideo Saito, co-founder of the Toho Gakuen School of Music. Naturally, then, one might not look so much for perfect ensemble unity, and more for enthusiasm and excellence on the particular level. While rhythmic and phrasing unity is certainly fine, and enthusiastic dynamics pervade, there's a heavy feeling to the skipping rhythmic motif that should lift the first movement to terpsichorean apotheosis. I sense the age in the arms of this ageless master. A bit sad, but still a keeper. You can't hear the marche funèbre second movement without thinking of inevitability. The tread slows slightly with each new iteration; is this mourning in advance? Not yet! The heaviness disperses in the second theme, the clouds part, the tread becomes a heartbeat.
Great playing throughout. Not such great recording values: live performance, whaddayagonnado?