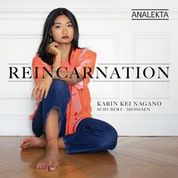 Reincarnation – Schubert; Messiaen
Karin Kei Nagano
Analekta AN 2 8778 (analekta.com/en)
Musical programming can often be summarized as either contrasting or complementary, using the similarities and differences between two pieces to serve a specific purpose as outlined by the performer. Nagano's Reincarnation attempts to do both simultaneously, drawing conceptual connections between Schubert's Sonata in B-flat Major, D960 and Messiaen's Première communion de la Vierge while clearly contrasting these disparate works from different times and places.
Schubert's Sonata is a late masterwork, one of three large-scale sonatas written in the final year of his life. These sonatas were composed simultaneously, beginning with initial drafts in the spring of 1828 and concluding with final revisions in September, just two months before Schubert's death; they share a number of musical similarities in both style and substance that continue to inspire and engage performers and listeners alike. Nagano successfully captures the spirit of this work that, far from being a self-obsessed elegy dwelling on the composer's imminent demise, is primarily a calm, graceful and optimistic survey of early Romantic pianistic skill.
Over a century after Schubert's death, Olivier Messiaen was finding new ways of expressing his deep Catholic devotion through stylistic syntheses, using modes and rhythms that could be transposed, used in retrograde, and combined in a unique and immediately identifiable musical language. Written in 1944, Vingt regards sur l'Enfant-Jésus is one of Messiaen's most intense and spiritual scores, expressing and conveying the various contemplations of the child Jesus in the crib from the Father, the Church and the Spirit, among others. Première communion de la Vierge (The Virgin's first communion) is, much like the Schubert Sonata, a calm reflection interspersed with moments of joy and exaltation, including an ecstatic middle section with pulsing rhythms and fleeting gestures.
Nagano's Reincarnation is an exploration of deep profundity disguised in highly appealing, refined compositions. This is music with many layers, and the opportunity for listeners to continue to revisit and explore these works, drawing new discoveries and experiences each time, is one that should not be missed.