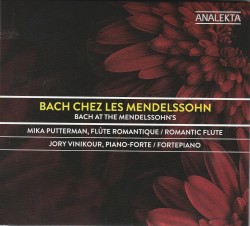 Bach at the Mendelssohns
Mika Putterman; Jory Vinikour
Analekta AN 2 9532 (analekta.com/en)
Historical flute specialist and music-history researcher Mika Putterman has investigated the musical life and culture of late-18th and early-to-mid-19th-century Berlin and the Mendelssohn family. Her research informs this recording, a re-creation so to speak of a musical soirée at the home of Sarah Levy, Felix Mendelssohn's great-aunt.
According to the liner notes, "when 19th-century musicians performed Baroque music, they paid little attention to what performance practice norms of the Baroque period might have been and instead used the expressive devices of their day." Her stated intention in this recording is to explore "new territory, envisioning how the Romantics would have played Bach."
The result is a kind of hybrid interpretation of three of the flute sonatas traditionally attributed to J.S. Bach, combining much that sounds like contemporary historically informed Baroque interpretation with moments of Sturm und Drang and others of heart-on-sleeve Romanticism. With the very able collaboration of fortepianist Jory Vinikour, she has put together an altogether convincing performance.
The cornerstone of the whole production is Putterman's transcription of Felix Mendelssohn's Violin Sonata in F Minor, Op.4, in which the performance practices of the early 19th century make total sense. The extension of these practices into the flute sonatas, odd as it sounds on first listening, actually works! So, kudos to Putterman and Vinikour for opening at least my ears, and hopefully many others, to what might have been the sensibility of a long-lost time.