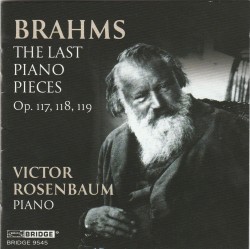 Brahms – The Last Piano Pieces, Opp. 117, 118, 119
Victor Rosenbaum
Bridge Records 9545 (bridgerecords.com)
Often, there is a fetishization of the young in music. The prodigy, perhaps particularly so on the piano, presents a familiar trope in the literature of musical biographies, record reviews and concert journalism. It is, of course, easy to see why this is the case. Music performed at the high level of excellence and dedication to craft that classical audiences have grown to expect, takes time... often a lifetime of study. And when someone is stationed at the beginning of their career, rather than the end, the results can be all the more astounding. That said, as artists age, there often comes a sheen of introspective reflection (usually described as musical maturity) to their playing and composing that, while perhaps not as attention-grabbing as their earlier and more precocious work, can be soul-enriching for the attenuated listener.
Such is the case here on Victor Rosenbaum's wonderful new Bridge Records recording, Brahms: The Last Piano Pieces Opp. 117, 118, 119, where the acclaimed American pianist and educator mines, with aplomb, the expressive depths of the final pieces written for his own instrument by old man Brahms. The music is typical Brahms, filled with wonderful lyricism of course, but offering a career bookending meditative counterpoint to, say, the virtuosity of his Piano Concertos No. 1 and 2 composed some 35 years earlier. Wonderfully recorded and played with tremendous attention to the subtle details of the work, Rosenbaum simply adds here to his fine reputation as a masterful pianist and interpreter. Even his reading of Opus 118: No. 3, Ballade: Allegro energico, which, as the title suggests, opens with an energetic G-minor clarion call, is handled with appropriate care and does not devolve into grandstanding. Instead, Rosenbaum plays up to the detailed richness of the German composer's original intentions. As Rosenbaum writes in his self-penned and illuminating liner notes, "he [Brahms] is drawing our attention not to speed but to vigor." An excellent recording to start 2021!