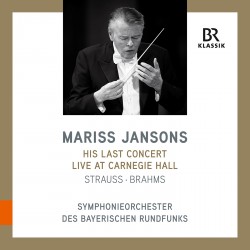 Mariss Jansons – His Last Concert Live at Carnegie Hall
Symphonieorchester des Bayerischen Rundfunks
BR Klassik BRK900192 (naxosdirect.com/search/brk900192)
A great loss to the music world, one of the top conductors of our time, a great musical mind and a wonderful human being, Mariss Jansons passed away in December 2019. This concert was his last, November 8 of that year, a recording he regretfully will never hear.
Jansons, as a baby and being Jewish, was smuggled out of Latvia to the Soviet Union to escape the Nazis: he grew up studying under the legendary Mravinsky in Leningrad and was discovered later by Karajan who invited him to Berlin.
I was lucky to have seen him conduct here in Toronto at Roy Thomson Hall. He did Mahler's Second Symphony, commanding the vast forces of the TSO and the Mendelssohn Choir to a standing ovation. In the last 16 years he was chief conductor of the Bavarian Radio Symphony which he honed to perfection, a world-class ensemble as witnessed by this recording.
Music of Richard Strauss, Four Interludes from the opera Intermezzo, pieces of extraordinary bravura, provide a rousing start and show off the virtuosity of the orchestra. The music is full of spirit and beautifully melodic with a waltz sequence that rivals Der Rosenkavalier, but the harmonies and orchestration are far more adventurous.
What follows is a wonderful, idiomatic and highly personal reading of Brahms' Fourth Symphony. I must admit I've never heard it played as beautifully, Carlos Kleiber notwithstanding. From the soft, undulating haupttheme of the first movement through the second movement of pure beauty and the rambunctious, boisterous Scherzo (the first and only real scherzo Brahms ever wrote in a symphony) we arrive at the monumental, unorthodox Passacaglia with 30 variations on an eight-note ground bass, and a standing ovation. Then the encore, Brahms' Hungarian Dance No.5, the famous one, played with great gusto ends the concert. A recording to treasure.