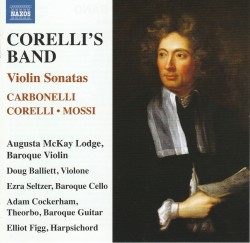 Corelli's Band – Violin Sonatas
Augusta McKay Lodge; Various Artists
Naxos 8.574239 (naxosdirect.com/search/747313423972)
The accomplished young Baroque violinist Augusta McKay Lodge brings her considerable musical elegance and strong personality to bear in this fascinating program of early 18th-century sonatas for violin and continuo. We hear three sonatas by Giovanni Mossi and two by Giovanni Stefano Carbonelli. Both Mossi and Carbonelli were students and/or followers of Arcangelo Corelli and indeed their works owe much to the great master, both in content and structure. The lone Corelli work on the disc is one of his greatest, the Sonata Op.5, No.3 in C Major, and the performance is sensational, a great combination of fire, precision and risk-taking. This is playing of great clarity that brings out the harmonic tension, melodic beauty and rhythmic interest in Corelli's music.
Of the three Mossi sonatas, the two from his early Op.1 collection from 1716 are a real revelation. They're technically challenging with a refreshing originality. The later 1733 sonata of his which opens the disc is somewhat more square and uninteresting. While obviously talented, Carbonelli seemed to have dabbled in music, possibly studying with Corelli and having known Vivaldi, who named one of his sonatas – Il Carbonelli – after him. His only published music – before he took up work as a supplier of wine to the English court – was a set of sonatas published in 1729. The two represented here are full of interest and great poignancy.
The continuo band is a powerhouse and provides strong support to Lodge, who is clearly emerging as one of the most eloquent and interesting Baroque violinists around.