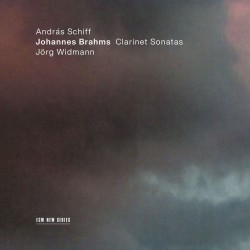 Johannes Brahms – Clarinet Sonatas
András Schiff; Jörg Widmann
ECM New Series ECM 2621 (emcrecords.com)
Few people play the clarinet so well, compose so well and exemplify the title "musician" so well as Jörg Widman. Substitute "piano" for "clarinet," and leaving aside composition, the same applies to András Schiff. What a fantastic collaboration this recording of Brahms' Sonatas for Piano and Clarinet Op.120 turns out to be. The subtitle is accurate: the piano is an equal partner, and often the more dominant. Schiff's articulation and phrasing leave me nodding in wonder and delight. Widman's mastery throughout is unparalleled. The two have collaborated often enough that it's like listening in on a conversation between brilliant friends. Brahms couldn't have asked for a more united and insightful reading.
They open with Sonata No.2 in E-flat Major, which makes sense if, like me, you prefer Sonata No.1 in F Minor. As wonderful as the performance is, there is nothing that can convince me the second sonata carries as much water as the first, which is more in the composer's Sturm und Drang manner. They focus, in the first movement of the F Minor, not so much on angst as resigned sadness. The same mood runs into the second movement adagio, taken at the bottom of the range of possible tempi at the outset, nudged gently forward in the middle section, and relaxed back in Schiff's brief cadenza.
Widman dedicated his Five Intermezzi to Schiff: solo pieces whose title and content hearken back to Brahms' late piano pieces. Interposed between the sonatas here, they serve as (mostly) brief enigmas to tease the listener. Think of a clouded mirror. Think of the grumpy ghost of Brahms, still pining, revisiting melancholy.