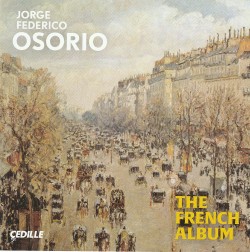 The French Album
Jorge Federico Osorio
Cedille CDR 90000 197 (naxosdirect.com/search/735131919722)
In a promotional video for Cedille Records' new release, The French Album by Jorge Federico Osorio, the pianist himself suggests that Claude Debussy argued that French music, above all, "must give pleasure." If these words were taken as marching orders for the great Mexican pianist, then it should be noted that his 2020 album represents a job well done. No doubt, unpacking, and then reassembling, music that spans composers, generations and musical eras (Baroque, Romantic, 20th century) into an expressive and cohesive narrative that moves beyond a simple shared place of origin towards something more profound, is yeoman's work to be sure, but work which Osorio, a concertizing pianist and faculty member at Roosevelt University's Chicago College of Performing Arts, handles with aplomb, care and musicality. It is difficult to imagine what exactly the aesthetic similarities are within the music of Jean-Philippe Rameau, Emmanuel Chabrier, Gabriel Fauré, Claude Debussy and Maurice Ravel, but Osorio manages to connect the repertoire by way of his expressive touch, superior musicality and interpretive mastery. By performing these well-known and hugely popular pieces, such as Ravel's Pavane pour une infante défunte, in its originally intended solo piano context – audiences may be more familiar with the composer's 1910 orchestral version – Osorio affords listeners an intimate look into the subtle and deliberate compositional motion of this war horse that, perhaps despite accusations of being overplayed, is magnificent in both conception and interpretation here.
Similarly, French (and European more generally) fascination (exoticization?) with Spanish melodies and rhythms (Chabrier's Habanera; Debussy's La Puerta del Vino and La soirée dans Grenade; and Ravel's Alborado del gracioso), moves here beyond a fetishization of otherness. Osorio achieves a coherent musical statement that places the simple, Romantic, and decidedly French, expressionism of Debussy's Clair de lune, for example, in conversation with the complexity of those fiery Iberian rhythms, providing a welcome release.