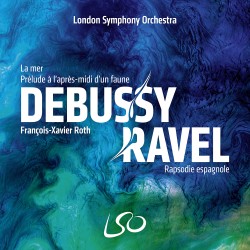 Debussy Ravel
London Symphony Orchestra; Francois-Xavier Roth
LSO Live LSO0821D (lsolive.lso.co.uk)
A sonic adventure! This impressive new release features three masterworks of French Impressionism by
two of its greatest exponents, Debussy and Ravel, in superb SACD stereo sound using the latest high-density recording technology and conducted by one of today's most charismatic and enterprising maestros, French conductor Francois-Xavier Roth. He "creates empathetic musicality and flair for colour and such startling touches that the players look stunned" (London Times); "…there's never anything routine about his approach." (Gramophone)
Ravel's Rhapsodie espagnole emerges in pianissimo from total darkness with four descending notes that reoccur in all movements, unifying the work. It then progresses with "cumulative vitality" into sunlight with three dance movements: Malagueña, Habanera and – exploding in fortissimo – the final movement Fiera. To maintain the suspense and gradual crescendo is a real test for the conductor who is showing his lion claws already.
Thanks to medici.tv I actually watched him conducting the Prélude à l'après midi d'un faune with the London Symphony and was impressed by his emphasis on the individual players' spontaneity, the wonderful interplay of woodwinds supported by the harps and the horns. The overall arch-shape is very clear: from the meandering, voluptuous solo flute through ever-changing textures into the passionate fortissimo middle part and sinking back into pianissimo as the faun, after being aroused by the elusive nymphs, goes back to slumber.
The real clincher is Debussy's iconic La mer. Debussy's immense achievement captures "the majesty and delicacy, fury and stillness, effervescence and power of the sea" and inspires Roth to give an extraordinary performance, careful attention to detail, stunning orchestral effects and an overall epic sweep with a very exciting ending.