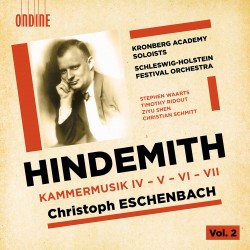 Hindemith – Kammermusik IV - VII
Kronberg Academy Soloists; Christoph Eschenbach
Ondine ODE 1357-2 (naxosdirect.com/search/0761195135723)
Christoph Eschenbach and the Schleswig-Holstein Festival Orchestra bring us a second volume of pieces that Paul Hindemith chose to lump into one category: Kammermusik. They are all works for smaller ensembles. Most or all require conductor, which is unusual for chamber music; they are complexly orchestrated for bands of varying instrumentation. Here are the latter four in the series. Hindemith was perhaps most easily described as a neo-classical composer, but this reduction definitely omits more than it describes. As an unabashed fan of his music, I'm in a reductive category as well, it sometimes seems. I love the clarity of his ideas and forms, the cleverness of his counterpoint, the freshness of his harmonic language.
Kammermusik IV is a violin concerto. Don't look for many clues in his movement titles other than an indication of the type of pace for each, but the second movement is titled "Nachtstuck" (literally Night Piece); not exactly a nocturne, but still yes, a nocturne. There is expression here, and quirkiness, as in the interlude that seems to depict the chirpings of nocturnal creatures in the forest. The final two movements run together, and the violinist is devilishly good, as are the players in the micro-orchestra. Kammermusik V is a Viola Concerto, one that Hindemith frequently performed himself. The finale is a Marche Militaire, where one might expect a certain ironic humour to play out. It does not disappoint. VI features the viola d'amore, and VII, the organ.
Hindemith was not neo anything except possibly neo-Hindemith. Fresh, prolific and always inspired, it will be a century before he is accorded the kind of stature given Mozart. Says me.