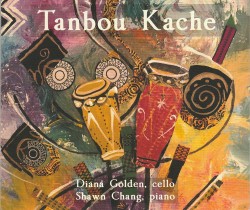 Tanbou Kache
Diana Golden; Shawn Chang
New Focus Recordings FCR279 (newfocusrecordings.com/catalogue)
Haiti, impoverished by unrelenting disasters – hurricanes, earthquakes and depredating exploitation from within and abroad – has nevertheless maintained an extraordinarily rich artistic heritage; vibrant, joyous, unconquerable. I've been there and experienced it first-hand. So has New York-based cellist Diana Golden, teaching in the art-city of Jacmel. She's also conducted research at Montreal's Société de recherche et de diffusion de la musique haïtienne.
Golden explains that the CD's title, meaning "hidden drums," refers to the Vodou drums accompanying traditional folk songs. The eight pieces, each lasting between five and 13 minutes, vary stylistically from the neo-Baroque Petite Suite for solo cello by Werner Jaegerhuber (1900-1953) to the minimalist meditations of Femiel, part of an 80-minute work for electronic instruments by Daniel Bernard Roumain (b.1970).
I particularly enjoyed the distinctively Haitian compositions. The bittersweet Légende créole by Justin Élie (1883-1931) incorporates a children's song about hide-and-seek. Affecting, soulful, folkloric melodies fill the Suite haïtienne by Frantz Casséus (1915-1993), originally for guitar, here arranged by Julio Racine (b.1945). In Racine's own Sonate à Cynthia (2014), two rhythmic Allegros bracket the pentatonic motifs of the lyrical Cantilena. Carmen Brouard (1909-2005) spent her last 29 years in Montreal where she helped found the Société mentioned above. Her Duo Sentimental pits Haitian pentatonics against a twelve-tone row, ending in a harmonious Amoroso.
Golden's closely-miked, dark-hued tone and expressive phrasing, aided by Taiwanese-Canadian pianist Shawn Chang, make a strong case for the unfairly neglected music of this unfairly neglected country.