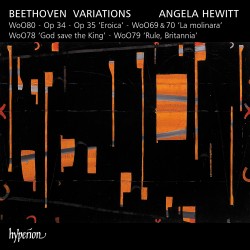 Beethoven – Variations
Angela Hewitt
Hyperion CDA68346 (hyperion-records.co.uk)
2020 has certainly been a year like no other. And while social media informs me that many of us, while hibernating in lockdown, have turned to amateur immunology, sourdough baking and mask creation as a way of passing the time, the Canadian-born, beloved and highly fêted pianist, Angela Hewitt, turned her keen musical gaze during lockdown towards Beethoven's colossal "Hammerklavier" Sonata, Op. 106, which she learned, thus completing her cycle of the composer's 32 sonatas. Hewitt, renowned for her interpretations of the major keyboard music of Johann Sebastian Bach, for which she was, earlier this year, awarded the City of Leipzig Bach Medal – the first time in its history the award was bestowed upon a woman – continues her focus on LvB here, on this great new Hyperion recording, Beethoven Variations.
Approaching the repertoire with the creative insight, scholarly rigour and wholly unique interpretative lens for which she is known, Hewitt once again reveals her singular ability to not only bridge, but illuminate Beethoven's challenging musical passages (which she seems to traverse with effortless virtuosic ease) with the baked-in humour and sense of fun that perhaps few see, but which Hewitt neatly brings to the fore. As she writes about the album's penultimate track, "God save the King" in her own terrifically penned liner notes that offer invaluable informative pedagogical insight into her artistic and pianistic process, "if ever you needed proof of humour in his music, here it is," before launching into its deft contrapuntal workout.