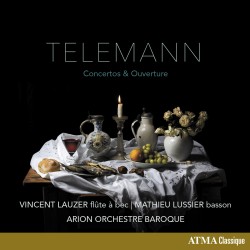 Telemann – Concertos & Ouverture
Arion Orchestre Baroque; Alexander Weimann
ATMA ACD2 2789 (naxosdirect.com/search/acd2+2789)
Georg Philipp Telemann was a prolific composer. One commentator made the astonishing claim that the sheer quantity of Telemann's compositions is more than all the works of Bach, Mozart, Haydn, Beethoven and Schubert combined! Yet the self-taught, self-made Telemann was not just an ordinary workaholic. He was also recognized as a master of many of the international and regional musical styles of his era, a kind of Baroque transnational genre fusionist. In his works for the church, opera and the emerging German public concert scene, his skillfully orchestrated scores were seldom pro forma. They typically exhibit clear melodies, buoyant dance rhythms, adventurous harmonies and exploit mood and drama.
Montreal's Arion Orchestre Baroque (founded in 1981) makes a strong case for the three Telemann works on this album. Quebec recorder virtuoso Vincent Lauzer tears into the first track of Concerto in C Major with youthful gusto. The spirited fourth movement Tempo di minuet sets the stage for Lauzer's displays of speed double tonguing, crisp arpeggios and dramatic octave leaps – performed with lyrical grace and aplomb.
Bassoonist and conductor Mathieu Lussier joins Lauzer in the double Concerto in F Major. The playful four-movement work pits the penetrating treble recorder against the characteristically muffled-sounding Baroque bassoon, an example of the composer's interest in unusual sonic combinations.
Telemann's ten-movement Overture in G Major – one of his 200 (sic) Overtures – is influenced by the French Baroque style he admired and includes a pastoral trio of two oboes and a bassoon. It receives its premiere recording here.
I'm pleased to report that Telemann's witty and engaging music, composed more than 250 years ago, lifted my clouded pandemic mood. It has the power to uplift other music lovers too.