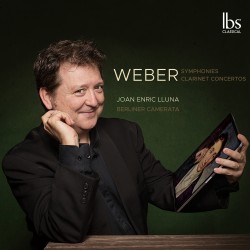 Weber – Symphonies; Clarinet Concertos
Joan Enric Lluna; Berliner Camerata
IBS Classical IBS222019 (naxosdirect.com/search/8436589069961)

Oh, allow the clarinet player his argument in favour of Carl Maria von Weber. This younger contemporary of Beethoven, precursor to Wagner, has been afforded an unfortunate and unfair place in the pantheon, close to the fire exit, on the way to the restrooms.
But just listen to the powerful bass-y recording released by the Berlin Camerata, featuring Joan Enric Lluna as soloist and conductor in the Clarinet Concertos, Nos.1 in F Minor and 2 in E-flat Major. It's as though the vengeful ghost of Weber has come to remind us: he was all that then, and he is still all that. Not for Lluna and the team any polite, apologetic renditions of this stuff: it is, as they say, junk out. It's great to hear, for once, musicians who agree Weber is kind of wild, and requires that approach in order to be heard as intended.
The microphone work is an integral part of this approach. You'll hear everything as if you were sitting not just near, but within the band. The very first sound from the clarinetist is an inhale, and such a hungry, lüstig breath Lluna takes. Weber orchestrated with verve and wit. The Camerata players are given license to kill it, and we hear all the voicings as characters in an opera. Listen to the horns! Listen to the gutty strings!
The liner notes written by Josep Dolcet are instructive; Lluna's own brief addition pays respect to Weber the dramatist, and labels the soloist as the diva! There is a companion CD included of the rarely heard symphonies from the younger Weber.