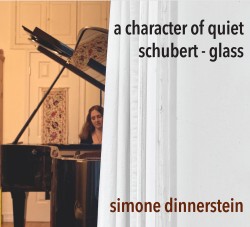 A Character of Quiet – Schubert; Glass
Simone Dinnerstein
Orange Mountain Music (orangemountainmusic.com)
Admittedly feeling "anxious and enervated" during the early days of lockdown in March and April, pianist Simone Dinnerstein has confessed that she felt neither "creative" nor "productive." In time however, with the help of poets Wordsworth and Melville and walks through her local cemetery – the hallowed Green-Wood of Brooklyn – she found her way back to the piano. In June, she sat down to record the music of two composers she has held a close connection with: Philip Glass and Franz Schubert. (And we are so very glad that she did!)
From the first note of this "quiet" and remarkable album (recorded in her New York home with longtime producer and friend Adam Abeshouse), the listener feels as if ferried to a private audience with Dinnerstein. Therein we are greeted with soloistic utterances on a wholly intimate order, sincere and sublime. With this unassuming recording, Dinnertsein seems to have evolved a new kind of homemade listening: she has managed to capture the immediacy and depth of experience – of character – that a one-on-one house recital can deliver. Here we glimpse the personal, as procured by the pandemic.
Even the three Glass Etudes, (music and a composer that this particular reviewer is often bemused by), speak in an honest and poignant mode, somehow changed by our planet's new energy, reshaped by a hushed and isolated atmosphere surrounding Glass' simple patterns and motifs.
Dinnerstein's Schubert is always formidable and especially unique. Her performance here of the mighty last Sonata in B-flat Major D960 bears no exception, possessing an inescapable message of radiance and poetry, humanity and continuance.
Ultimately, Dinnerstein's musicianship is one born of integrity. Through forced pause and quietude she has, indubitably, discovered new aspects to her art. Let us hope for more such recordings, as we marvel at her courage and savour the nourishment it brings us in these weary, unwanted times.
Note: The recording's title was inspired by William Wordsworth's The Prelude, a poem Dinnerstein became familiar with during lockdown. It refers to "A character of quiet more profound than pathless wastes." Dinnerstein muses: "Perhaps I had been parted too long from my better self by the hurrying world, as Wordsworth puts it."