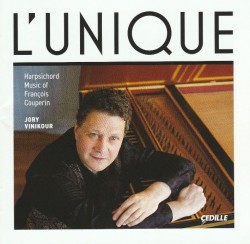 L'Unique – Harpsichord Music of François Couperin
Jory Vinikour
Cedille CDR 90000 194 (cedillerecords.org)
The harpsichord is one of those instruments that simultaneously fascinates and confounds, its plucked-string effect and resulting sound so unlike any other keyboard instrument that it is without parallel in the realm of modern instruments. Its players, too, can be considered atypical, collecting birds' feathers to harvest and refine the quills, thereby crafting the plectra that pick at each individual string, and exploring repertoire that has often been cast aside by the more conventional pianoforte crowd.
Such is the case with the harpsichord music of François Couperin, a master of Baroque keyboard music whose works have long remained in a niche category – the Ordres performed by harpsichordists and the Masses by organists – frequently recorded but less often celebrated in wider musical circles. Vinikour's recording demonstrates once again why this is so: Couperin's harpsichord music is inherently and essentially crafted for that specific instrument, its unique percussiveness and relative lack of resonance.
It is this exclusive reliance on the harpsichord that makes these works so fascinating; in addition to being expressive, articulate and strikingly beautiful, Couperin's conception of these pieces is so specific, both in the written score and resulting sound, that they simply do not work as well on any other keyboard instrument, a point reinforced by Vinikour's measured approach to the Sixième, Septiême and Huitiême Ordres.
Couperin, as with much of the French Baroque, can sound frenetic and indecipherable if tempi are taken too briskly and ornamentation loses its melodic intentions. Fortunately for us, Vinikour never loses sight of the melodiousness of Couperin's music, resulting in nearly 80 minutes of utterly delightful early music.