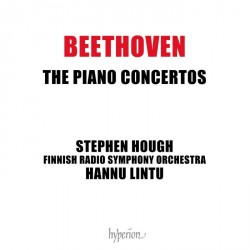 Beethoven – The Piano Concertos
Stephen Hough; Finnish Radio Symphony Orchestra; Hannu Lintu
Hyperion CDA68291/3 (hyperion-records.co.uk)
Performing – and recording – the complete cycle of Beethoven's piano concertos is a remarkable achievement for any pianist, at any stage in their creative life. But a recent release from Hyperion Records offers a singular synthesis of extraordinary solo playing, exceptional conducting and exquisite orchestral performance. Breathing vibrant, surprising avidity into all of this is Stephen Hough, with his customary elan. Hough is a tireless artist, devoted to his craft and to the betterment of our 21st-century musical world. At this autumnal stage in his career, he is beloved and with good reason: his inheritance is of that rare and reverent keyboard tradition dating back to Beethoven's time.
Presumably, the British pianist has been performing these piano concertos since his youth and yet, much of the disc's material suggests a re-envisioned approach, a wide-eyed zeal for such canonic works, always tempered, deferential and selfless. Hough brings his experience to bear: such thrilling artistry glistens through every last note – and silence – on the record. We the listeners are gladdened beneficiaries.
Highlights include both final movements of the Second Concerto in B-flat Major, Op.19 and the Fifth ("Emperor") in E-flat Major, Op.73, where Hough's superb taste and jovial character are on full display; he relishes such jauntiness with embellishments and good-natured glee. (In fact, he composed his own cadenza for the first movement of the second concerto.) Also of remarkable note is the Allegro moderato (first movement) of the Concerto No.4 in G Major, Op.58. Hough's carefully synchronized reading of this music is a departure from the norm and a welcome one at that! His lyrical lines skip and soar, caper and cajole with earnest delight. After all, isn't this music at once both so very humane and cosmic?
Admirably, Stephen Hough is donating 100 percent of sales from this new album to the charity Help Musicians. An active and noted writer, he recently released an anthology of essays, Rough Ideas: Reflections on Music and More (2019). It is published by Faber & Faber in the UK and by Farrar, Straus and Giroux in North America.