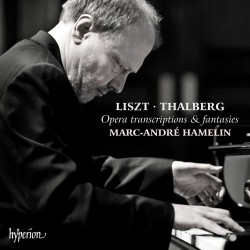 Liszt; Thalberg – Opera transcriptions and fantasies
Marc-André Hamelin
Hyperion CDA86320 (hyperion-records.co.uk)
This remarkable new issue from Hyperion records could be subtitled "Tribute to Italian Opera" because all four masters, Bellini, Donizetti, Rossini and Verdi are well represented. In the heyday of the Second Empire, Paris was the centre of the universe for presenting grand opera and these composers had success after success, conquering the public with beautiful melodies. There were also some of the greatest pianists around who wrote paraphrases or fantasies inspired by these melodies and thereby spread the wealth, making these operas ever more popular.
Case in point: the rousing tune Suoni la tromba e intrepido from Bellini's I Puritani was so popular that a certain countess invited some of the best pianists of Paris to compose and perform variations on it, asking Liszt to organize and contribute to the contest. Some of the other invitees were Chopin, Czerny and Sigismund Thalberg (Liszt's principal rival in virtuoso pianism). The contest featured rapid alternations of figuration, headlong scales in thirds for one hand or two and hair-raising leaps and many other virtuoso technical feats in each participant's unique style. Liszt cleverly prepares the ground so the theme emerges gradually from an ominous (minor key) mood into the major key glorious fortissimo theme. He also concludes the set with his own Molto Vivace quasi prestissimo and wins the contest easily.
Four more paraphrases follow: from Donizetti's Don Pasquale (Thalberg), Verdi's Ernani (Liszt), Rossini's Moïse in Egitto (Thalberg) and Bellini's Norma (Liszt) performed with astounding virtuosity and true Romantic abandon by Marc-André Hamelin. The Canadian pianist of world renown performs on a Steinway grand and let me assure you it will sound as if the piano were in your living room.