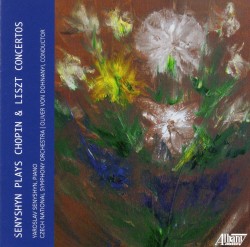 Senyshyn Plays Chopin & Liszt Concertos
Yaroslav Senyshyn; Czech National Symphony Orchestra; Oliver von Dohnányi
Albany Records TROY1777 (albanyrecords.com)
Frédéric Chopin and Franz Liszt are two of the great pianistic giants of the 19th century. Their contributions to the solo and concerto genres redefined the limits of writing and performing for the piano, resulting in almost 150 years of unbroken popularity and affection from both artists and audiences alike. This disc of Chopin and Liszt concertos features the "Number Twos:" the former's Concerto No.2 in F Minor, and the latter's Concerto No.2 in A Major, both interpreted by Canadian pianist and Simon Fraser University professor Yaroslav Senyshyn, with the Czech National Symphony Orchestra.
Chopin and Liszt were masters of harmonic and melodic craftsmanship, embracing and extending the reaches of chromaticism and lyricism to create strikingly beautiful material, such as that contained on this recording. Both concertos are lush and expressive – Romantic in the best possible way – requiring a depth of pathos and flash of dexterity from both Senyshyn and his orchestral colleagues, challenges that are ably and satisfyingly met.
This expressionistic sentimentality, however triumphant or angst-filled, however loud or soft, is fulfilled within defined limits; these are not the thunderous, string-breaking interpretations that can benefit Prokofiev and Ustvolskaya, but rather finer approaches that suit these more delicate pieces. Even when the Liszt concerto threatens to erupt beyond its natural limits, it is held in place by a desire for beauty that permeates every moment of these marvellous essays in concerto form.
While the material is unlikely to be new to many familiar with the piano repertory, this disc is nonetheless highly recommended for its pure, unfiltered perspective of these much-loved concerti. The pursuit of artistic truth over vapid virtuosity and its soul-stirring sincerity make this recording a fine addition to every piano-lover's collection.