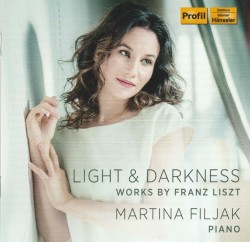 Light & Darkness – Works by Franz Liszt
Martina Filjak
Profil Edition Hanssler PH18074 (smarturl.it/light-darkness)
It isn't often that you come across a recording so good that you not only want to recommend it to everyone but also gift copies to everyone you meet. The Croatian pianist Martina Filjak's Light & Darkness – Works by Franz Liszt is one of these discs. Not only does her performance rise to the demanding level of Liszt's pianism, but in the programming of the repertoire you will find a challenging attempt to paint a vivid picture of Liszt's multifaceted character and personality at the heart of which was an unbridled virtuoso genius. Liszt's attraction to Palestrina and early polyphony, and the extraordinary opulence of Ottoman Empire culture is well-documented here as is his attraction to spirituality and asceticism later in life.
To remain true to all of the above and interpret the often diabolical intricacies of Liszt's music requires uncommon virtuosity and wisdom. Filjak has both qualities in spades. The young pianist has the technical prowess to deal with Liszt's pyrotechnics and yet knows how to enter the introspective core of Miserere d'après Palestrina – one of a set of ten works based on the poems of Alphonse de Lamartine – and the Ballade No.2 in B Minor. Her revelation of the mesmerizing range of tones of Deux Légendes is brilliant. Filjak emerges as a complete Lisztian, turning what in other hands sounds merely exhibitionistic into a discursive stream of consciousness of the highest order.