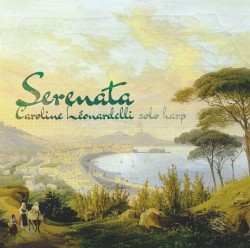 Serenata
Caroline Léonardelli
CEN Classics CEN1022 (carolineleonardelli.com)
Canadian JUNO-nominated classical concert harpist Caroline Léonardelli describes her third recording as a "homage to her Italian heritage." Her detailed, conscientious research culminates in this all-solo, Italian-based harp-repertoire release featuring composers from the 19th and early 20th centuries, a time when the modern version of the concert harp was being introduced. The compositions touch on such influences as fantasies, studies, suites, classical, opera arias and folk/popular music. Léonardelli performs them all with subtlety, virtuosity and incredible dedication.
Title track Serenata Op.51 No.6 (1910) by Alessandro Longo is an uplifting classical harp work with contrasting high notes and lower pitched lines, glissandos and slight rubatos at the ends of phrases. Luigi Tedeschi's slower Etude Impromptu Op.37 (1906) is stylistically more Romantic with high clear pitches and sensitive melodic movement. Giovanni Caramiello bases his Rimembranza di Napoli Op.6 (1877) on two Neapolitan folk songs. The detached effect going into the infamous song Santa Lucia, with its high-pitched ringing middle song section, will make one want to listen to the harp instead of trying to sing along! Two Gaetano Donizetti opera arias are featured, one arranged by Albert Zabel and the other by John Thomas. Both become harp arias without words while remaining very true to Donizetti's original works. Virgilio Mortari's two pieces feature more contemporary colours and chromatic melodies.
Léonardelli is an expressive, smart, devoted harp soloist. Both harp fans and those new to this instrument will enjoy her performances.