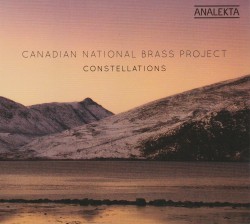 Constellations
Canadian National Brass Project
Analekta AN 2 8924 (analekta.com/en/albums/constellations-canadian-national-brass-project)
The Canadian National Brass Project, founded in 2015 by artistic director James Sommerville (principal horn, Boston Symphony Orchestra) and administrative director Sasha Johnson (principal tuba, National Ballet of Canada Orchestra) is comprised of 25 Canadian brass players and three percussionists selected from 15 major Canadian and U.S. orchestras. This unbelievably outstanding big ensemble performs brass/percussion arrangements here with musicality and precise pitch/intonation.
Wagner's Elsa's Procession to the Cathedral, arranged by Jay Friedman, opens with flawless delicate lyrical lines. As the volume and intensity build to the final majestic ending, the background musical supports hold it together while never being overwhelming. Angus Armstrong's arrangement of Holst's Mars and Jupiter from The Planets includes the infamous virtuosic rapid lines, loud detached notes, low rhythms and dramatic percussion crashes, performed here with so much enjoyment! Robert Fraser's arrangement of Tchaikovsky's 1812 Overture works so well for this instrumentation from the mood-setting quiet start to the infamous melodic line, horn fanfares and breathtaking, never over the top, closing build.
Contrapuntal brass playing with vocal-like breathing and detached notes drive Timothy Higgins' arrangement of Gabrieli's O Magnum Mysterium and Sancta Maria. Two 20th-century works are given a brass flavour. Taz Eddy's arrangement of Ola Gjeilo's Sanctus incorporates its conversational sounds. Silvestre Revueltas' dramatic Sensemaya is so well suited to the percussion and low brass of Bruce Roberts' arrangement.
High production values and musicianship give each work an out-of-this-world sound!