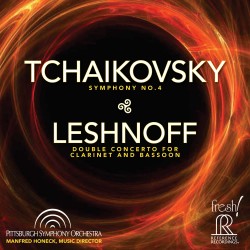 Tchaikovsky – Symphony No.4; Leshnoff – Double Concerto Clarinet & Bassoon
Pittsburgh Symphony Orchestra; Mannfred Honeck
Reference Recordings (pittsburghsymphony.org/pso_home/press-room/press-releases/2019-2020/music-director-manfred-honeck-and-the-pso-release-a-new-recording-pairing-tchaikovsky-and-leshnoff)
On this 2020 release by Reference Recordings as part of their Pittsburgh Live! series, the majestic Symphony No. 4 in F Minor by Pyotr Ilyich Tchaikovsky, with its famous opening clarion call that immediately commands listener attention, is paired with a lesser-known, but no less stirring, work by the American-born Jonathan Leshnoff.
Pairings of this sort (a warhorse coupled with something new) are, of course, familiar within live musical performance practice, but here we are in a world wherein there is no current ability to mass gather and experience powerful symphonic music (perhaps one of the least socially distant musical forms). So, the recording medium will have to suffice. Good thing then that this album captures the dependably great Pittsburgh Symphony Orchestra, under the musical direction of Manfred Honeck, in fine form. The performance brings musical urgency and vitality to two important works capable of cleansing the banality of everyday life from one's musical palette, and affording listeners the kind of hopeful optimism that only great music can provide during a time when, without the engagement of socialized work, friends, nightlife or human interaction, it is perhaps most needed. In this way, both works (Symphony No. 4 and Leshnoff's Double Concerto for Clarinet and Bassoon), the skillful way in which their performances were undertaken and the clear recording capture, are good for the soul.
This indeed is life-affirming music during a difficult time, and it is nice to be reminded of the heights of human creativity and expression. Recommended!