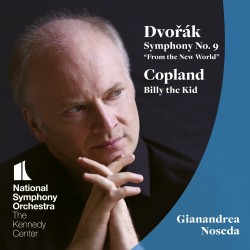 Dvořák – Symphony No.9; Copland – Billy the Kid
National Symphony Orchestra; Gianandrea Noseda
National Symphony Orchestra NSO 001 (gianandreanoseda.com)
This most enjoyable disc is the debut recording of a new label, NSO Live from the Kennedy Center, with the National Symphony Orchestra of Washington DC. The group is famous for having been directed by Rostropovich at one time, but now Gianandrea Noseda is its music director. Noseda heralds "new beginnings" and judging by this issue, he certainly delivers. The recording simply throbs with life and shows Noseda's love for America by selecting two works he says "on which American sound has continued to be built over the decades." The two works come from vastly different backgrounds, yet the American spirit is unmistakable, and this makes this issue so exciting.
The first piece is by the venerable American composer Aaron Copland who was born in Brooklyn to a family of Russian immigrants, yet no other composer has been able to better evoke the frontier spirit of the Wild West. Billy the Kid, a ballet from 1938, is about an outlaw and gunfighter who murdered eight men by the age of 21, when he himself was killed. Copland's score provides a vivid depiction of prairie life incorporating several cowboy tunes, Mexican dances and even a gunfight with explosions, certainly never heard before from a symphony orchestra. Noseda has a lot of fun with it and it is catching.
And now an absolutely stunning performance of Dvořák 's New World Symphony where the musical material is "inspired by American folk songs, African-American spirituals and North American Native songs" all intermixed with tremendous compositional skill. Dvořák introduces new themes in each movement, but these then reoccur in different guises culminating in the magnificent last movement for an astounding conclusion. Demonstration quality sound, highly recommended.