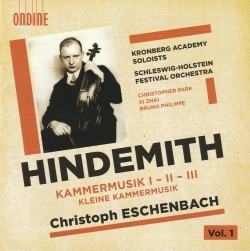 Hindemith – Kammermusik I - II - III
Kronberg Academy Soloists; Schleswig-Holstein Festival Orchestra; Christoph Eschenbach
Ondine ODE 1341-2 (naxosdirect.com)
Over the course of his lifetime (1895-1963) Paul Hindemith, increasingly ossified by his academic obsessions, underwent a peculiar reverse metamorphosis. Born a butterfly, he eventually became a caterpillar. He was a world-famous composer, a consummate musician and an influential Ivy League savant, yet the 50th anniversary of his death in 2013 passed with little fanfare from the classical music establishment. In his early career he was considered an avant-garde miscreant, ultimately branded and banished as an "atonal noisemaker" by the Nazi regime. Noisy? Perhaps, but powerfully so. Atonal? Not in the least, though bracingly dissonant at times.
Hindemith's astounding orchestral mastery (he was able to play any instrument he wrote for) is amply demonstrated in the adventurous Kammermusik series composed in the 1920s, from which we have on offer here the first three suites, with future volumes presumably in the works to complete the set of seven. The first suite is composed for 12 instruments in four movements, a provocatively satirical remodelling of the Brandenburg Concertos which receives a rollicking performance under Eschenbach's direction. The second instalment, scored for piano and ensemble, is equally enjoyable and glitteringly dispatched by soloist Christopher Park. The third, cast in the form of a concerto featuring cellist Bruno Philippe, is less convincing due to sub-optimal tempos (perhaps the soloist's prerogative) and an over-miked solo part which obscures the inner voices. Claudio Abbado's lively 1999 EMI recording, some two and a half minutes faster, makes a far better case for this work. An enjoyable nightcap, the beloved Kleine Kammermusik for wind quintet, rounds out the proceedings.