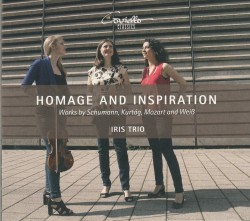 Homage and Inspiration – Works by Schumann, Kurtág, Mozart and Weiss
Iris Trio
Coviello Classics COV92002 (iristrio.com)
Reviewing a former student's second chamber music recording in as many years nudges my feelings from pride toward sheer professional envy, especially because this is the better of two fine discs involving clarinetist Christine Carter. Cleverly compiled, the disc of music for clarinet, viola (Molly Carr) and piano (Anna Petrova) explores the way each work was influenced by the previous one.
In 1786, Mozart composed his Trio in E-flat Major, K498, known familiarly as the "Kegelstatt," for his friend and clarinetist Anton Stadler (for whom he also wrote the Quintet for Clarinet and Strings and the Concerto K.622). Robert Schumann responded with his peculiar Märchenerzählungen, Op.132 in 1853. Hungarian composer György Kurtág wrote a reflection on the odd personae populating much of Schumann's music, including this trio, in his Hommage à R. Sch. Op.15d. Finally on the disc is a recent commission for the same grouping by Christof Weiß (whose liner notes provide much helpful information), his Drittes Klaviertrio für Klarinette, Viola und Klavier "Gespräch unter Freunden." The works are ordered to highlight the links from past to present, rather than chronologically.
It's lovely to hear the Mozart presented with such fresh freedom. Pulse is allowed to ease and press forward, such that the music comes close to representing what one so often hears it is meant to depict: a conversation among friends over a game of bowling. A special nod to Petrova; this is a small piano concerto in fact, and she knocks it over with grace and flair.
Working on Kurtág's Hommage was one of many experiences for which I can thank Robert Aitken and New Music Concerts. These mysterious works are uncannily beautiful, and this rendition is absolutely breathtaking.