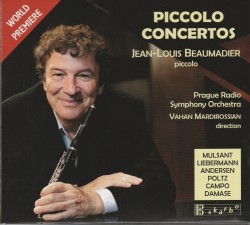 Piccolo Concertos
Jean-Louis Beaumadier; Prague RSO; Vahan Mardirossian
Skarbo DSK3192 (site.skarbo.fr)
How extraordinary is this recording of the Prague Radio Symphony and virtuoso piccolo crusader, Jean-Louis Beaumadier! Smashing any expectations of the loud, piercing or vulgar, this first-ever CD comprised entirely of piccolo concerti with full orchestra, casts the solo instrument in a most reflective, sweet and expressive light. From the outset, the neo-Romantic/impressionist music of Florentine Mulsant offers both soloist and orchestra multiple opportunities to soar, which they do marvellously. With whole-tone passages, Ravel-like transparencies and their sensitive rendering, it is compelling listening.
The well-known staple amongst serious piccolo players, Lowell Liebermann's Concerto follows and then a colourful, newly orchestrated version of Joachim Andersen's Moto Perpetuo. On both, Beaumadier assures us of his utter command of the instrument through impressive technical displays and his trademark control of hushed pianissimos.
While the redundancy of both of these works being available online (in other versions) might diminish the CD's value, the sheer magic of this album lies in the remaining three concerti and the Mulsant, all dedicated to Beaumadier and composed since 2012. Véronique Poltz's "Kilumac" Concertino is brooding and suspenseful and showcases Beaumadier's stellar flutter-tonguing. Various minimalist ostinati spin ethereal tapestries in Régis Campo's Touch the Sky, over which the soloist weaves evocative threads. In conclusion, the final Concerto composed by the late Jean-Michel Damase is a poetic, three-movement masterpiece, filled with humour, episodic melodic sonority and brilliant orchestration. Simply forget that it's for a piccolo; this recording is truly a musical delight.