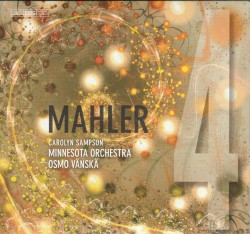 Mahler 4
Carolyn Sampson; Minnesota Orchestra; Osmo Vänskä
BIS BIS-2356 (naxosdirect.com)
Osmo Vänskä continues his ongoing Mahler cycle in this fifth instalment of his well-received survey of the complete symphonies. Composed at the dawn of the 20th century, Mahler's uncharacteristically carefree and nostalgic Fourth Symphony turns the classical conventions of the symphonic tradition of Haydn, Mozart and Schubert on its head with a dark, ofttimes menacing humour. This wry, affectionate sarcasm is, for me, best captured in the classic 1965 recording by George Szell and the Cleveland Orchestra at the height of their fame. Though Vänskä does not command the subtle structural micro-shifts of tempo Szell was able to coax from his notoriously intimidated band in the first two movements, the amiable Minnesotans still have much to offer. I particularly enjoyed the hushed serenity of the opening of the adagio movement and the expanded dynamic range the digital process enables. At times I even felt that the musicians are almost too fastidious – the unique melodic unison of four flutes in the first movement is so unnervingly in tune that the evocative, distant fuzziness of this moment is lost.
Carolyn Sampson is the vocal soloist in the finale of the work, to which she lends the stipulated youthful, angelic tone along with excellent diction. Curiously, a photograph in the erudite booklet shows her performing from the rear of the stage on a riser next to three trumpets, though in the digital mix she is very much front and centre. I would have preferred to experience the true ambience of this accommodating stage placement. That aside, this is an excellent rendition that I very much enjoyed.