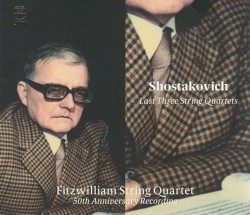 The Fitzwilliam String Quartet was formed in October 1968 in Fitzwilliam College, Cambridge and celebrates its 50th anniversary with a quite remarkable 2CD set of Shostakovich Last Three String Quartets – No.13 in B-flat Minor Op.138, No.14 in F-sharp Major Op.142 and No.15 in E-flat Minor Op.144 (Linn CKD 612
naxosdirect.com).
After graduating from Cambridge the quartet accepted a residency at the University of York in 1971, and in early 1972 violist Alan George (now the only original member still with the group) wrote to Shostakovich requesting the material and permission to play his 13th quartet, which still hadn't been performed in the UK. Shostakovich not only supplied both but travelled to York for the November concert, the Fitzwilliams also playing three of his earlier quartets for him in his hotel room.
The visit started a relationship and correspondence which lasted until the composer's death in August 1975 and also resulted in Shostakovich trusting the ensemble with the Western premieres of his 14th and 15th string quartets. The Fitzwilliam gained international recognition by becoming the first quartet to perform and record the complete cycle of Shostakovich string quartets.
Now, 43 years after those early recordings, the quartet revisits the momentous relationship, Alan George's extensive, deeply personal and moving booklet essays underlining just what a life-altering experience it was. These are not easy quartets, George noting that they are strongly coloured by an aura of death and personal despair, and by musings on his own mortality by a composer for whom faith held no meaning, and who saw death as absolutely final – "existence passing into the infinity of oblivion."
Not surprisingly, given the circumstances, the performances here are outstanding, with every phrase, every note, every dynamic and every gesture reflecting the depth of understanding the players have of these remarkable works.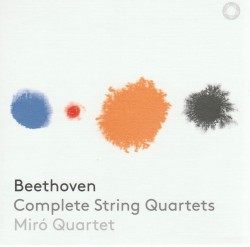 The Miró Quartet – violinists Daniel Ching and William Fedkenheuer, violist John Largess and cellist Joshua Gindele – was formed in 1995, and has become one of the most celebrated American string quartets.
They started recording the Beethoven quartets in 2004, releasing the first volume featuring the six Op.18 quartets (with then second violin Sandy Yamamoto) in 2005 on the Vanguard Classics label. Four subsequent CDs starting in 2012 covered the Opp.59, 74, 95, 130, 131 and 133 works, with the final recordings completed by February 2019.
The complete cycle is now available on eight CDs in a special box set of Beethoven Complete String Quartets (Pentatone PTC 5186 827 naxosdirect.com), marking both the ensemble's 25th anniversary and the 250th anniversary of Beethoven's birth in 2020. It's quite superb. The quartets were recorded in numerical sequence over the years, so the listener can travel the same journey as the performers. And what a journey it is, with the astonishing late quartets in particular receiving superb performances. Slow movements are achingly beautiful, and the fast movements taken at breathtaking but perfectly balanced speed.
The insightful booklet notes by violist John Largess add another touch of class to a quite outstanding issue.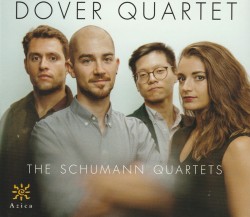 The Dover Quartet swept the board at the 2013 Banff International String Quartet Competition, winning every available prize, and if you needed any proof of their continuing rise to the very top of their field then their latest CD The Schumann Quartets (Azica ACD-71331 naxosdirect.com) should more than suffice.
Schumann wrote his three Op.41 string quartets – No.1 in A Minor, No.2 in F Major and No.3 in A Major – in a six-week period in 1842, never to return to the genre. They are quite lovely works, richly inventive and with more than a hint of Mendelssohn, to whom they were dedicated.
The Dover Quartet gives immensely satisfying performances of these brilliant works on a generous CD that runs to almost 80 minutes.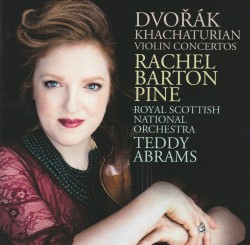 The latest CD from the always-interesting Rachel Barton Pine – Dvořák Khachaturian Violin Concertos with the Royal Scottish National Orchestra under Teddy Abrams (Avie AV2411 naxosdirect.com) – is apparently not what it was meant to be, the originally planned "very different" album having to be changed at the last minute when the conductor became unavailable. These two concertos immediately struck the soloist as an attractive alternate project: she learned both works at 15 and had played each of them a few times during the previous concert season.
Tied as they are by each composer's use of his own ethnic music they do make a good pair, but although there's much fine playing here it feels somewhat subdued at times and never quite seems to really hit the heights the way you would expect, possibly due to the last-minute nature of the recording session but also possibly because Barton Pine seems to take a more lyrical approach to works that are strongly rhythmic as well as strongly melodic. The Khachaturian fares better in this respect, with a particularly fiery cadenza from the soloist.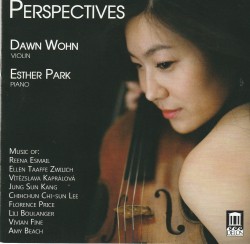 Perspectives is a fascinating CD by violinist Dawn Wohn and pianist Esther Park that explores the differing cultures and perspectives of women composers, reaching back to the 19th century and into the 21st (Delos DE 3547 naxos.com)
The nine works are: Jhula-Jhule by Reena Esmail (b.1983); Episodes by Ellen Taaffe Zwilich (b.1939); the particularly lovely Legenda by the Czech composer Vítěslava Kaprálová, who died at only 25 in 1940; Star-Crossed (commissioned for the CD) by Jung Sun Kang (b.1983); the remarkable solo violin piece, Proviantia "Sunset of Chihkan Tower," by Chihchun Chi-sun Lee (b.1970); Deserted Garden and Elfentanz by Florence Price (1887-1953); the lovely Nocturne by Lili Boulanger (1893-1918); Portal by Vivian Fine (1913-2000); and Romance by Amy Beach (1867-1944).
Wohn plays with warmth, a crystal-clear tone and a fine sense of line and phrase in an immensely satisfying recital, with equally fine playing from her musical partner Park.
The outstanding cellist Daniel Müller-Schott is back with #CelloUnlimited, an impressive recital of 20th-century works for solo cello (ORFEO C 984 191 naxosdirect.com).
A passionate reading of the monumental and challenging Sonata Op.8 from 1915 by Zoltán Kodály makes a fine opening to the disc.
Prokofiev's Sonata in C-sharp Minor Op.134 from 1953, the year of his death, is really only based on a fragment of the first of four projected movements; using a contrasting theme apparently partly sourced from Mstislav Rostropovich it was made into a performing version by the composer and musicologist Vladimir Blok in 1972.
Hindemith's Sonata Op.25 No.3 from 1922 and Henze's 1949 Serenade both consist of short but effective movements – nine each less than one minute long in the latter.
Müller-Schott's own Cadenza from 2018 is followed by the early and surprisingly tonal 1955 Sonata by George Crumb; and Pablo Casals' brief Song of the Birds, with which he always used to end his concerts, provides a calm and peaceful ending to a solo CD full of depth and fire.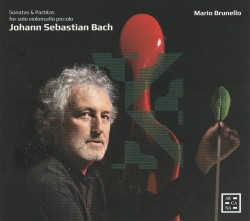 It's not unusual to encounter performances of both the Bach Sonatas & Partitas for solo violin and the solo Cello Suites in transcription: viola players, for instance, have available arrangements of both, and the Cello Suites can be found transcribed for violin. Less common, though, are performances of the violin Sonatas & Partitas on cello, but this is what Mario Brunello provides on Johann Sebastian Bach Sonatas & Partitas for solo violoncello piccolo (ARCAN A469 naxosdirect.com).
Brunello says that he tried playing the works on a four-string (not the usual five-string) smaller violoncello piccolo with no particular intention, and found that with the smaller body and the same tuning as a violin (but an octave lower) in effect the instrument felt like a larger or tenor violin, allowing him to read the Sonatas & Partitas as a cellist without having to resort to near-impossible technical virtuosity.
He also points out that the natural tendency for a cellist to first apply the bow to the lowest string leads to what he calls a "looking-glass" reading and a "seen from the bass line" approach in his playing, the instrument's resonant body encouraging lingering on the low notes. Brunello certainly does that, even in the dance movements, but although it occasionally threatens to compromise the pulse it never really feels like more than just taking a breath and not rushing.
The instrument he plays is a 2017 model by Filippo Fasser of Brescia, after Antonio and Girolamo Amati of Cremona, 1600-1610. The pitch employed is a' = 415 Hz, so down a semi-tone from the printed violin score.
It all works really well, although obviously the trade-off is that the brightness of the violin is lost, especially with the octave drop. There's an interesting effect in the Andante of the A minor Sonata No.2, where Brunello plays the first half of the movement pizzicato and then changes to arco for the repeat, reversing the pattern for the second half.
There's a fine resonance to the recording, and Brunello's playing is admirable.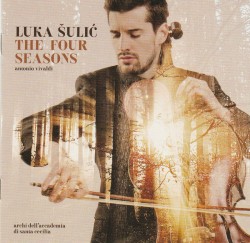 There's another cello arrangement of a well-known violin work on Vivaldi's The Four Seasons, an arrangement for cello and string ensemble by cellist Luka Šulić, who is accompanied by the Archi dell'Accademia di Santa Cecilia (Sony Classical 19075986552 sonymusicmasterworks.com).
This also seems to work very well, giving the music a slightly darker tinge than usual, although with the lower register the solo line is difficult to distinguish in places. When it's clearly audible it's really impressive playing, with Šulić displaying terrific facility and agility and handling the intricate solo line with apparent ease.
Full-blooded and committed ensemble playing, especially in the Allegro and Presto movements, where tempos are never on the slower side, makes for a really enjoyable CD.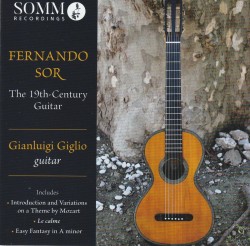 We still tend to think of Andrés Segovia as being the guitarist most responsible for establishing the classical guitar in the concert hall, so Fernando Sor The 19th-Century Guitar, a new CD from the Italian guitarist Gianluigi Giglio (SOMM SOMMCD 0604 somm-recordings.com) is an excellent reminder of similar efforts from 100 years earlier.
As Michael Quinn points out in the booklet notes, the Spanish composer and guitarist was a pioneering advocate for the guitar as an instrument that belonged in the concert hall, building on the successes of Mauro Giuliani and Ferdinando Carulli in the first decade of the 1800s and producing the seminal Méthode pour la Guitare in 1830 along with a stream of compositions that extended both the instrument's vocabulary and technique.
The eight works featured here all date from the period 1822-1836, when Sor had returned to Paris after spending eight years in London. They include the Introduction and Variations on a Theme by Mozart Op.9, the Easy Fantasy in A Minor Op.58, the Elegiac Fantasy in E Major Op.59 and the Capriccio in E Major, Le calme, Op.50. The Introduction and Variations on "Malbrough s'en va-t-en guerre" Op.28 – a tune better known now as "For he's a jolly good fellow" – opens the disc, followed by Les folies d'Espagne and a Minuet Op.15a. Two movements from Mes Ennuis – Six Bagatelles Op.43 and the E Major No.23 from 24 Progressive Lessons for Beginners Op.31 complete the recital.
Giglio plays with a full, warm and clean sound redolent of a modern classical instrument, but is in fact performing on a narrow-waisted but quite beautiful 1834 guitar by René Lacôte of Paris, illustrated in colour on the booklet front cover.