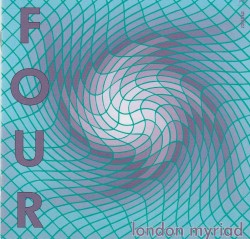 Four
London Myriad
Métier msv 28587 (divineartrecords.com)
This is a crisp and capable ensemble, a woodwind quintet minus French horn. The material is supplied by the French and English moderns. For tuneful fun, turn to Eugène Bozza, Jean Françaix and Richard Rodney Bennett. Jacques Ibert, Claude Arrieu and Frank Bridge supply some more weight, but never too heavy. Largely the playing is elegant and the ensemble finds admirable unity of pitch and articulation, no small task among such diverse voices, and they play the spirited small works with great verve, as if they were having a heck of a time doing so.
I really like this group, their relative youth, the way the whole is greater than the sum of the parts, and I particularly like Bridge's Divertimenti, H.189. Easily the longest selection on the disc, the composer allows an idea to develop and subside into a new one in each of the four movements. One is led to suppose each movement stands on its own, but he follows a format for a multi-movement work meant to be performed as a whole, like a miniature symphony. The second movement, Nocturne, is a dialogue for flute and oboe. Rather daringly, given the sparse character, this stands as the longest movement. Naturally, the scherzo which follows is a duet for clarinet and bassoon. Mr. Bridge is a staunch egalitarian.