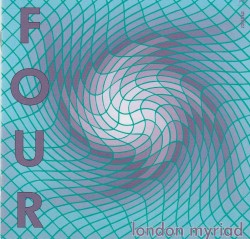 Joy & Desolation
Alexander Fiterstein; Tesla Quartet
Orchid Classics ORC100106 (orchidclassics.com)
Get ready, the youth are marching, and they hear the beat of a drummer we should all listen for. Clarinetist Alexander Fiterstein and the Tesla String Quartet have released a sharp-looking package of chamber works for that particular and popular grouping, the clarinet quintet.
After paying homage to the founder of the movement, Mozart, in his Quintet K581, they embark on a path through the 20th century: Gerald Finzi's Five Bagatelles (arranged by Christian Alexander) and a late-millennial work by a pre-boomer, Soliloquy by John Corigliano. Lastly comes a brief and fairly recent work by Argentine composer Carolina Heredia: Ius in Bello (Laws of War) (2014).
I appreciate the care and skill the group employs in recreating Mozart's beloved chamber work; it will certainly not disappoint. The colour of Fiterstein's clarinet brightens the rich sound of the quartet, whose lead voice (in this instance, violinist Michelle Lee, although she alternates on the disc with Ross Snyder), offers a gorgeous counterpoint to the woodwind. They score points as a group for not attempting to reinvent the work; instead they bring a clear sensibility about the use of nuance (tactful and restrained) and attention to prevent vibrato from creeping into the colour. Kudos.
My skepticism about the value of the Bagatelles melted on hearing it improved by the piano part being replaced by the individual string voices. Here the (subtle) vibrato in all the voices turns what is a somewhat pedestrian duo into a touching choral ensemble work. Corigliano provides the "desolation" referred to in the disc's title with a haunting elegy to the composer's late father. Heredia's short and edgy work is a refraction of the conflict-filled world of today.